This is a year that's required tremendous fortitude and adaptability. From global conflict to layoffs and inflation to scary-fast advances in artificial intelligence, this year has not been light on breaking news and unprecedented moments.
I hope this final edition of Cultivating Resilience in 2022 finds you well and that you are getting a chance to rest and rejuvenate before what's surely another tumultuous year.
I'm grateful to your readership and excited share a lot of big plans for this newsletter in 2023.
Speaking of plans, we're making some together on New Year's Day. Deets in the Announcements section.
Talk soon,

Announcements / Reminders
A Recap of Cultivating Resilience in 2022
I went back and looked at all 50 editions of the Cultivating Resilience newsletter that I sent out in 2022. It was a busy year. We crossed the three digit mark which was a big milestone, I wrote some original pieces I'm really proud of, and dropped some pretty epic pieces on Muse and Every as well. I also started making longform videos on Youtube (@coachjason)
We averaged 50.0% open rates while growing from 1,635 subscribers to 2,780, which is pretty awesome. Looking at the analytics, we averaged around 1,800 unique visitors on a normal month outside of newsletter subscribers (though we had that 2 day spike due to Philip Su's story in October, which doubled the total visits to almost 4k.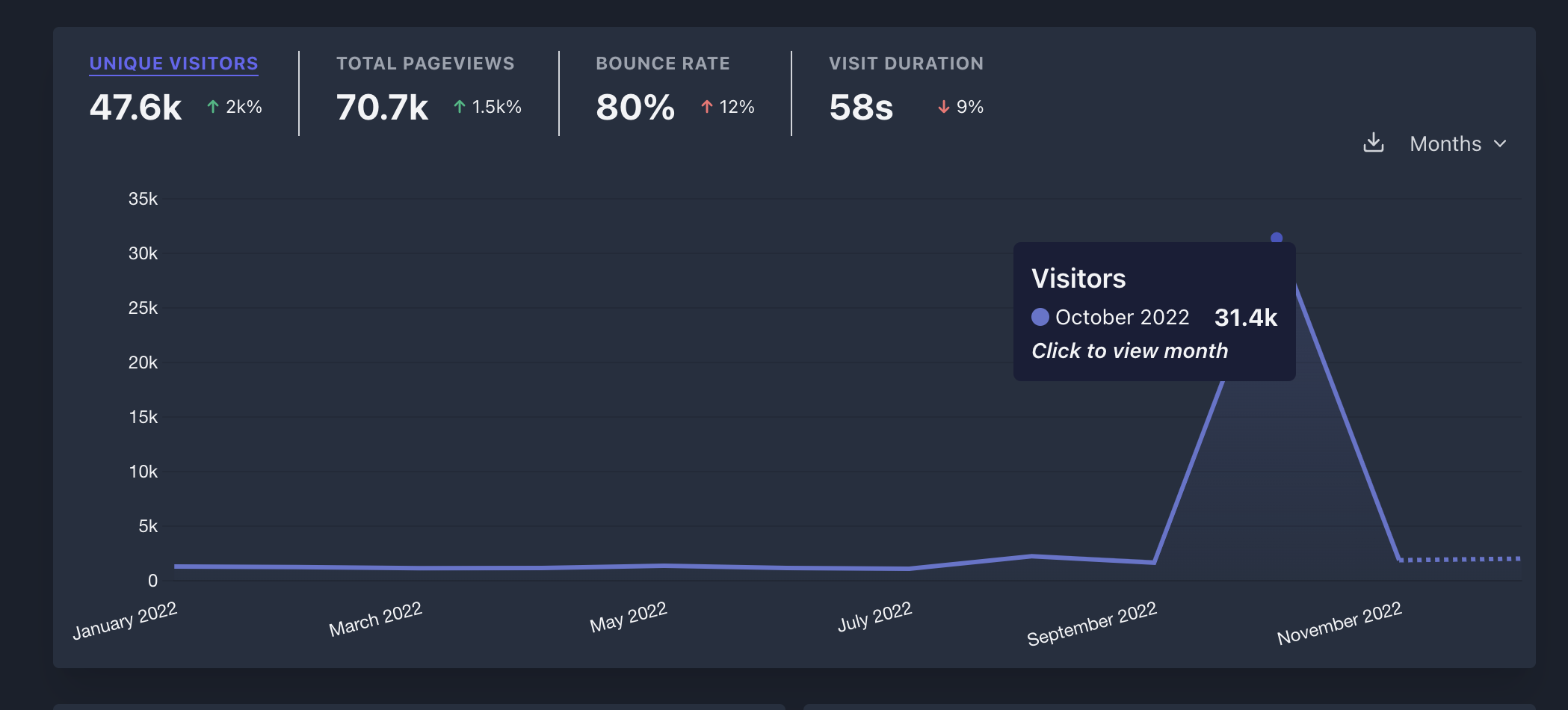 Here's a rundown of some of the pieces you (our community) engaged with deeply in 2022 based on open rates and clicks—as well as some of my own personal favorites that weren't top performers by the numbers.
Anger—there's a lot to be angry about these days, both at a societal level and a personal one. In #096 I reflected on then-SCOTUS nominee Kentanji Brown Jackson's deft management of anger and shared some of my best advice on how to manage anger effectively and channel it towards useful ends. Plus a great podcast rec!
Turning 36—every year I like to share birthday lessons and 36 was no exception. Looking at some of the lessons in #104, this one "well-told stories are unreasonably persuasive" comes back again and again as well as "leverage the power of rituals" (speaking of rituals, why not engage in the ritual of annual review with me on Jan 1! [link])
Main Character Energy—this phrase which was introduced to me from Tiktok aligns very much with that idea of stories as a form of power, and the value of creating a self-narrative. In #105 we talked about how to do just that and a lot of you seemed into it.
Rethinking Resilience miniseries on Every—many of you were excited to see me flesh out my resilience framework (#107) and apply to various situations including reorgs (#108), screw ups (#127) and layoffs (#132).
Cut & Run—sometimes the best advice is personal. I expanded on some very specific advice to an mentee who was struggling with a messy work situation in #109 and many of you were able to relate. Leaving when you see multiple red flags is not a bad idea (ask any Twitter engineer).
Personal Updates—I make it a point to share some personal news and reflections in each newsletter, but two pieces that caught your attention that were more self-focused included when I finally got COVID 27 months into the pandemic (#110), when I switched teams at work onto the Facebook Groups team (#111), and the subsequent layoffs which hit my team quite hard (#129)
Startup Pivots—A topic I began to really explore in 2022 was the startup pivot. It was my focus for doing Ship 30 for 30 in August where I talked about my own failed pivot (#114) and an examination of several other notable pivots (#115), a passionate defense for conviction (#122), and eventually expanded into a new framework I developed for navigating a pivot called the Double Loop Pivot (#125)
Creative Doing (interintellect)—Many of you were interested in expanding your creative toolkit and followed along as I shared my journey applying the ideas behind my friend Herbert Lui's book Creative Doing in #106 and then did a recap of the Supersalon we hosted on interintellect in #118 (if you're a fan of online events where you actually converse as a group, I'm hosting another salon on Jan 18th on responding to Generative AI)
Burned Out Engineer Turned Warehouse Worker—This was probably the single biggest traffic driver to my site all year (thanks to a Hacker News post that peaked at #2 ad drove 27k visits in 2 days) and for good reason: Philip Su's journey from high flying engineering leader at Microsoft and Facebook to leaving his startup due to burnout and finding a job at Amazon was a doozy! In a two-part series in #121 and #122, we looked at how Su recovered from burnout and what he learned about resilience and EQ along the way.
ADHD—2022 was the year I finally embraced the fact that my brain is wired a little differently and I didn't just "grow out" of my childhood ADHD. I worked with several clients in my executive coaching practice this year who have ADHD and shared my journey restarting Adderall as an adult in #124. This topic will come up more in 2023, including a new YouTube video I just published on one of my favorite books on topic of ADHD which reignited my own journey as an adult.
Generative AI—I've been using AI generated imagery for many of the cover images throughout this year but mostly staying out of the debate about whether it's "real art" and the ethical implications. But with the updates to GPT-3 (davinci 003) and the launch of ChatGPT, I felt compelled to organize my thoughts in a more substantial manner in #131. I think Generative AI is going to be a reocurring theme for this blog and I think it pairs well with resilience—because we are going to be adapting to the changes of this technology for decades to come.
In Chronological Order: