💡
The short version
: The first installment of
Rethinking Resilience
, my 8-part mini-series of longform essays on navigating change just went live on Every. I would love for you to
read it
. This first issue is completely free.
The long version:
Once upon a time, two popular Substack newsletter writers decided to team up. Nathan Baschez, author of Divinations, a business and strategy pub and Dan Shipper, author of Superorganizers, a productivity pub came together to make The Everything Bundle. It quickly became one of the most popular paid newsletters on Substack growing to 8 publications and they eventually left in Jan 2021 to form an independent, venture-funded publication called Every.
As they wrote in their opening letter in Jan 2021:
The response has been far better than we ever anticipated: the Everything Bundle has been read by over 750,000 people, it has almost 2,400 paid subscribers, and has cracked the top 10 on Substack's paid newsletter leaderboard. To us, the signal is clear that there is value in a bundle like this. Readers want access to a place that consistently delivers business writing from a variety of perspectives—for one subscription price.
Over the years, I've gotten to know Nathan and Dan through other endeavors. Nathan has been obsessed with the future of media for a long time: I helped create a tappable reading experience on deliberate practice through his platform Hardbound, featuring the groundbreaking research of the late Anders Ericsson.
Meanwhile I pitched (and got rejected) by Dan several times while running Headlight and Midgame for early venture funding when he was First Round Capital venture scout.
So when they put a call out for writers, I accepted the call. I applied through their application form and I waited. And eventually, Rachel Jepsen, then executive editor, reached out to set up a call.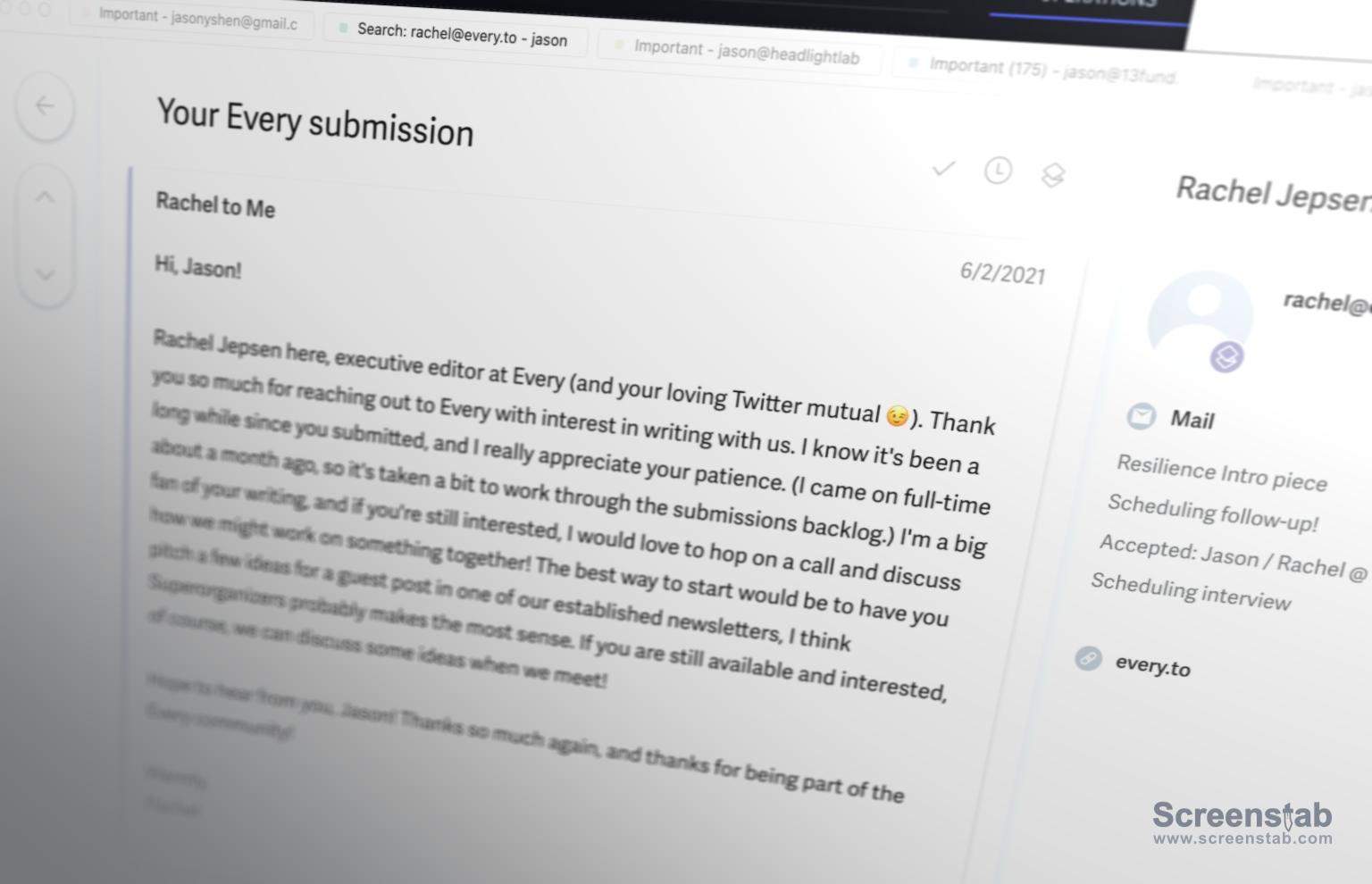 Over the course of several conversations, an essay about how to be resilient during a reorg(anization) turned into a 4-part series which turned into an 8ish part pop up newsletter. Our ambition and scope for the project expanded and so did the timeline.
I started writing this newsletter while traveling the country with my artist wife Amanda as she painted a series of mural, working East Coast hours while living on the West Coast. While I'm deeply grateful for that chance to travel and see much of the country while working remotely, it was also a challenging experience.
Even as I was working on this newsletter, I was also working on a book proposal, which I sent out to agents in January. Subscribers to this newsletter got my special note at the top, which read:
I got some tough news this week. I had submitted a pretty lengthy piece of writing that I had been working on for over a year. I had edited and revised this thing a bunch of times and I was sending it to someone I respected for feedback and the hope that they'd take the work further.
After a month of waiting, I finally got an answer: "well researched, well-written, and thoughtfully organized" but not enough "new" to warrant further collaboration without something special.
Reader, I have been trying to land an agent to go sell a book since 2017 and I thought this submission would be it. It wasn't, but I'm still trying.
So, why am I telling you all this?
Because I want you to know that I don't just write about resilience. I live it. Like you, I feel strapped for time, under pressure, and pulled in multiple directions. Like you I'm often tired, uninspired, and overwhelmed. But I believe our lives are too short not to try, not to look for meaning and make a contribution. I leaned on the belief of my editor: Rachel Jepsen, and a community of writers at Foster to keep coming back to the creative task of writing and rewriting.
And in the end, I think I came out with something really wonderful.
So I hope you enjoy this piece which lays out what resilience is, why it matters, and the four skills that we need to master to live more resilient lives.