Hey friend,
Welcome to the 50th edition of Making Connections! I can't believe it's been a full year since I kicked of this newsletter with these words:
I'm excited to try something new here. I've been blogging since 2010 and sending email newsletters for almost as long, but to be honest, it's been starting to feel stale.

Part of it is because I've gotten better as a writer and my standards are higher for what constitutes a "proper post". Part of it is because I am further into my career and I haver greater expectations for what "someone like me" should be writing or saying.

This is a chance for me to do a fresh start. It's going to be a lot more raw and whatever's top of mind.
I thought of this newsletter as an experiment. Would I stick with it? Could I keep it going after starting a demanding new job? Would anyone care / subscribe?
The answer was yes, yes, and at least a handful1. 50 sends and one year is a big milestone for me and this edition will be a bit of a look back to where we've been and where I hope to take us.
If you've been enjoying this newsletter—please help share it! It'd be awesome if you could forward it onto a few friends (they'll get a good idea of what it's about and whether it's for them)
---
🖼 Comics, Memes, and Diagrams
One of the things I wanted to do with this newsletter was to engage my visual skills more. I think I did that. Between diagrams, memes, and comics, I've had a lot of fun.
Scotch and Bean: I had the idea to start this comic featuring a cup of coffee and a glass of scotch (the first one from MC025. They've developed their own personalities and I continue to have fun with them. It's amazing what you can do with just a simple set of visuals. This is one on metrics is one of my favorites: MC043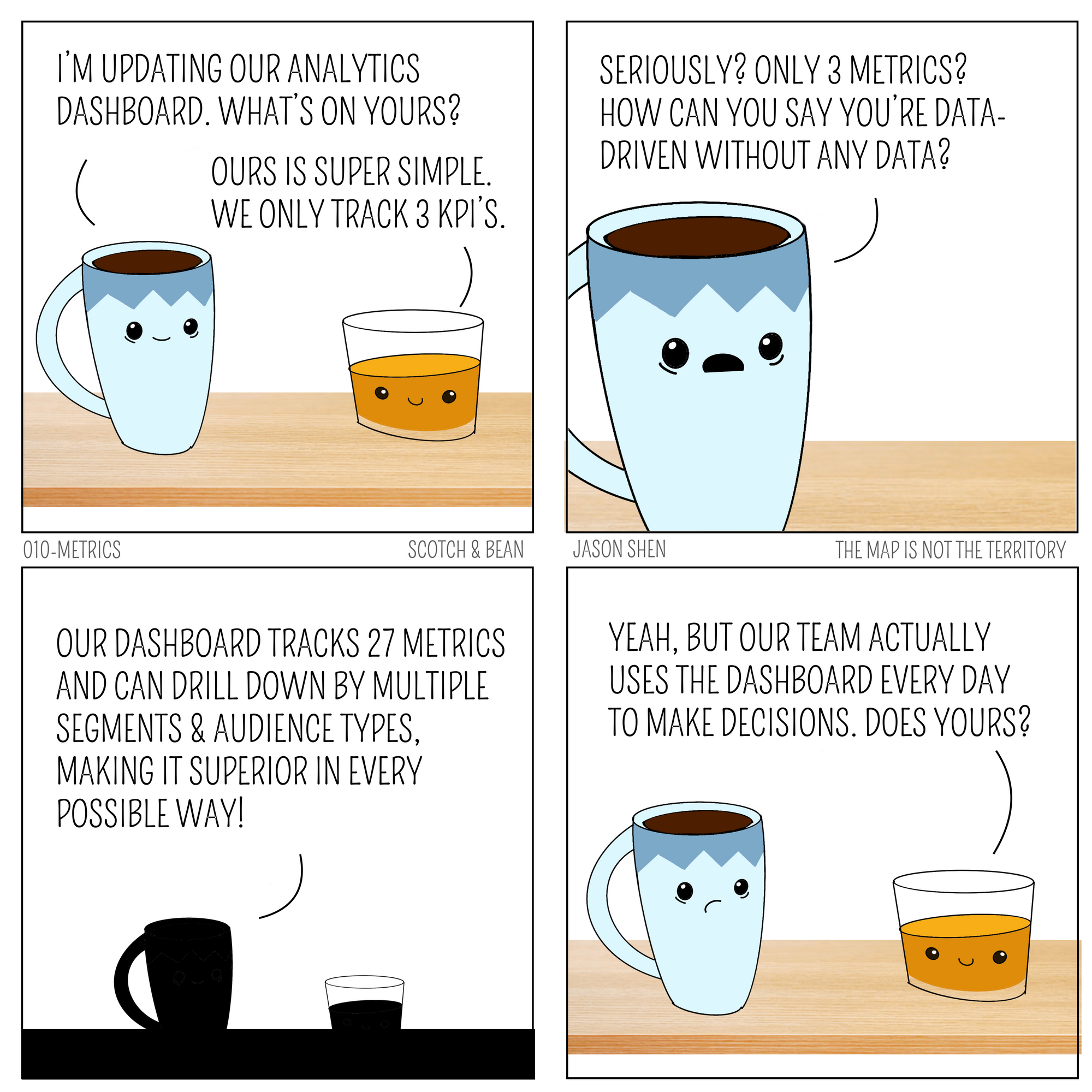 Diagrams. I discovered Excalidraw, a powerful web-based sketching program last summer and have never looked back. It's been a great for making everything from Venn Diagrams [MC010]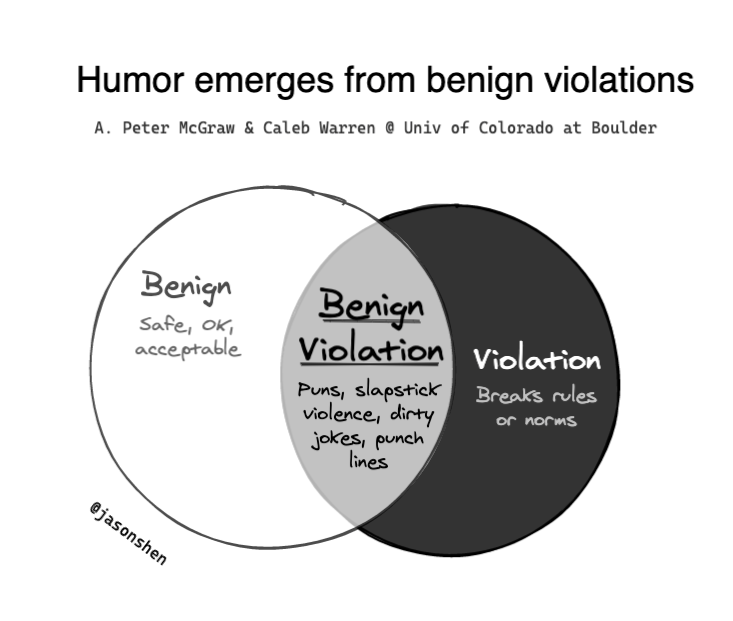 to planning flowcharts [MC030]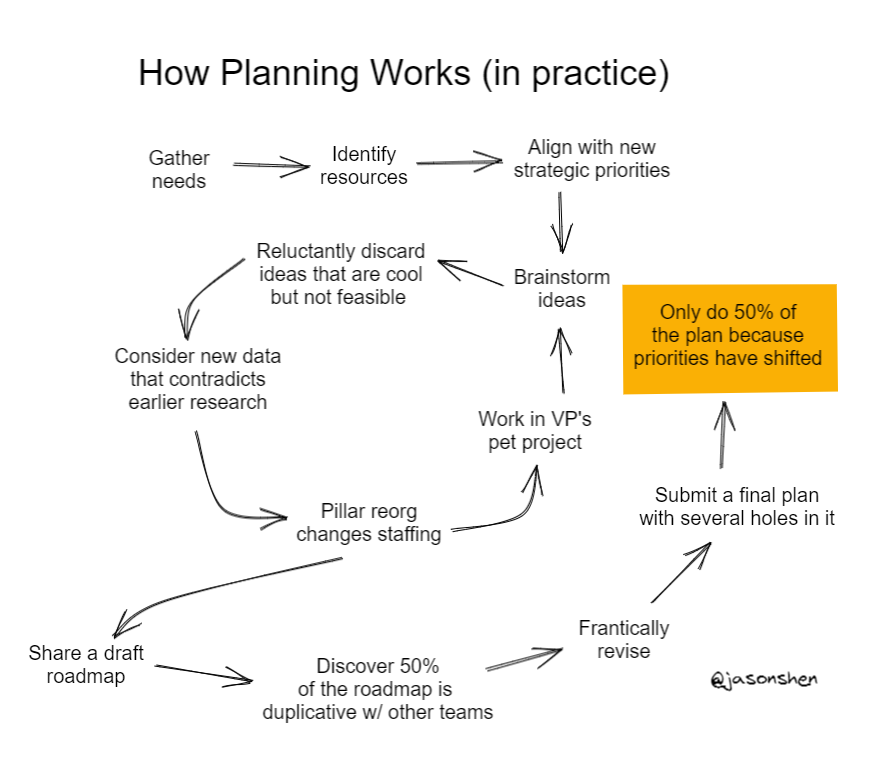 to X Y scatter plots [MC023]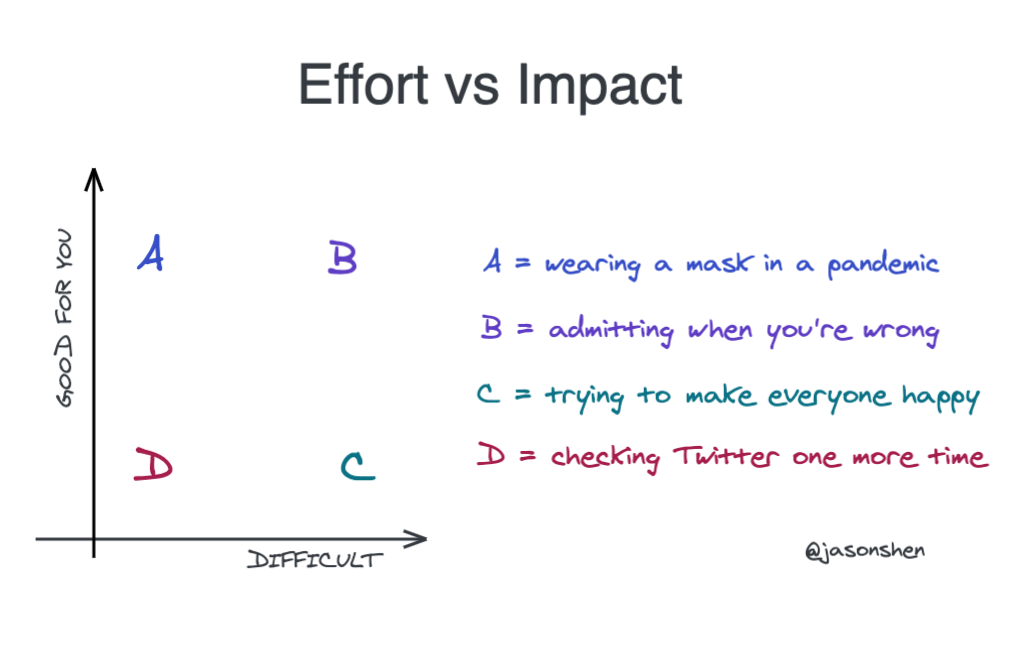 Memes: while we make fun of memes, they are actually an incredibly powerful communication mechanism and enable resonant ideas to spread far and wide. I hope to make more original memes (like this one) in the future.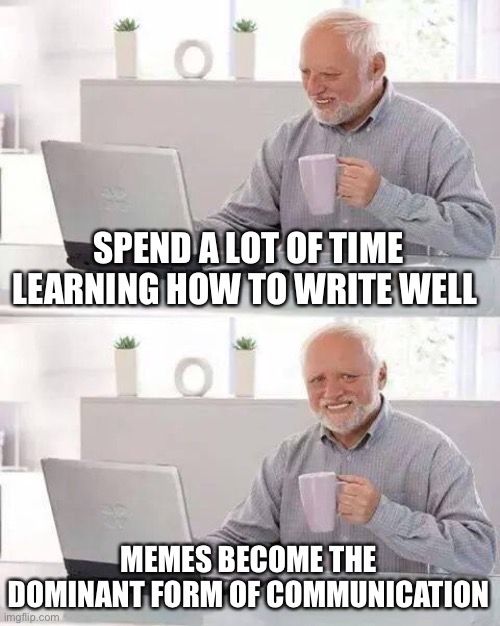 Connecting the Dots
I called this newsletter Making Connections because a lot of what I end up doing is bringing together ideas from different domains together. I've been saving all the links I've shared out over the past 49 editions. I'll pick 3 random numbers and see what we get:
Link 376: [MC046] "I brought up some tough topics at work this week" (/044-with-softness-and-power). So this referred to how a group of individual contributors had to get managers and directors to recognize that our larger group had to say / do something after the Atlanta shootings and I was referencing MC044 where I wrote about my thoughts on the violence.
Link 204: [MC020] "Emily Balcetis, a psychology prof at NYU, asked people to focus on the finish line (aka "eyes on the prize") while walking a distance with weights on their ankles (aka mild physical exertion)." (https://www.ted.com/talks/emily_balcetis_why_some_people_find_exercise_harder_than_others) Ah so this comes from the "Sweat Edition" where I talked about Peloton, Mirror, Apple Fitness, and linked to 3 scientific papers about activity and exertion, including this tidbit on how focusing your visual attention on a target makes you get there faster with less effort.
Link 283: [MC032] "Get it on Steam, iOS, or Android." (https://apps.apple.com/us/app/democratic-socialism-simulator/id1500446568) Hah! That referred to this game my friend linked me — a sort of choose-your-own-adventure game where you try to lead America as a Democratic Socialist (not necessarily my own political alignment but a clever idea
Deep dives
Honestly these were some of my favorite editions to write. They took a lot of time to research and but I felt like I had a much clearer understanding of the topic at hand
[MC005] Protest Edition: we talked about the law of the instrument (every problem looks like a nail when you have a hammer) and how the use of force by police against protestors back fires.
[MC011] Gymnastics Edition: where we look at why you never see old gymnasts, reinterpreting McKayla Maroney's smirk after understanding her history with convicted molester Larry Nassar, and Simone Bile's Masterclass.
[MC012] Humor Edition: we explored dark humor, why funny teachers produce more learning, and how Sarah Cooper got better at comedy
[MC018] Edtech Edition: where we talk mostly about Masterclass as a form of edutainment, how they use celebrity instructors because they inspire, and how they're the spiritual successor to TED.
[MC019] Mindfulness Edition: we look at the big rounds of funding Calm has picked up, the data from the Muse meditation device
[MC020] Sweat Edition: where we examine the religious experience that is Soulcycle, the amazing leaderboard of Peloton, and Apple+ Fitness
[MC022] Docs Edition: where we analyze the homepage content of Evernote, Roam, and Notion, discuss the purpose of documents, and imagine if content editors were vehicles
Interactive Experiences
Ok so it's a stretch to call these "interactive" but I did find the process of creating spreadsheets that people could essentially self-score and consider the results
Humor scale orientation quiz—a self reported survey in Google Sheets of whether you are able to see (and help others ser) the humor in situations
Decade of Insights—a homemade website / quiz coded in JavaScript that recommends 5 great fiction+ nonfiction books to increase your impact
Mindfulness quiz—another self reported survey in Google Sheets, this one focused on
Reader Feedback
Content is always relevant and timely. Interesting to get inside the mind of JS! Relevant to tech folks, entrepreneurs, trend finders. People who care about aapi community.
- Victor
You words of wisdom are a gift to your readers! Insightful, honest, and current. You always seem in step or slightly ahead of your subject matter.
- Kelly
Your newsletter is a very human take on the tech world I'm usually overly immersed in, and I love it for that. It's a great break from the other, more corporately-polished newsletters I subscribe to and skim periodically (the Skimm, The Hustle,  The Information, etc).
- Christine
What I've appreciated are the occasional discoveries: the tools and games that come from all corners of the Internet usually prove to be interesting and worth checking out.
- E
When we worked together, I enjoyed hearing your takes on what was happening in the world. Reading your newsletter feels like getting a coffee together where I just get to listen. Sometimes if I'm busy, I'll save it for later like an anticipated TV episode.
- Lilly
It looks like the only substacks I subscribe to are yours and Astral Codex Ten, and I occasionally read yours and never read ACT, so I guess that makes yours more interesting to me than the guy who makes hundreds of thousands for his and has been profiled in a lot of places recently
-K
What's Next: More Direct Thoughts and a Name Change
As I think about what's next for this newsletter and gear up for editions 51-100, I have a few ideas:
More original thoughts: The format I've been following of Visual - Thought/Excerpt - Recommendation has worked pretty well overall. But I'm going to try to share my thoughts more directly rather than merely commenting on what someone else has said.
Video: While I articulated a lot of love for text in my Docs Edition, there's something magical about video and I want to try and incorporate it into my newsletter somehow
New Name: I didn't think too hard about the original name, because it wasn't worth optimizing for when I had essentially zero subscribers. Starting today, this newsletter will be renamed Cultivating Resilience. The content won't really be changing since resilience—adapting successfully to change—is deeply embedded into just about everything this newsletter already covers: tech, productivity, fitness, persuasion, and systems.
Alright, Substack tells me I'm nearly reaching my limit for the length of this newsletter so I better wrap it up.
Thank you for joining along this experiment of mine and I hope we continue this relationship into the 2022 and beyond!
Jason
In the last 12 months, this list grew from 9 to about 220. Viral rocket ship it is definitely not, but with open rates of ~40% I'm still pretty pleased.