How to Make a Killer First Impression and Get Your Foot in the Door
We talk a lot about the war for talent: the idea that organizations need to fight to recruit, retain, and grow great people. Harvard Business Review recently put it this way:
"Finding and nurturing ambitious, hard-driving, and international-minded managers and technical staff are major challenges for multinationals and will become ever more crucial. HR operations at many companies have traditionally been seen in terms of compliance, record keeping, and support. But as talent shortages grow more acute in idea-intensive industries, human capital management should become a much higher strategic priority."

— The Future and How to Survive It (HBR October 2015)
But one of the biggest challenges in the war for talent is identifying who those top performers are.
Evaluating Talent
In creative fields such as interaction design or journalism, and technical fields such as backend or iOS development, there are reliable ways to evaluate core abilities. While imperfect, portfolio reviews, freelance work, code challenges, and open-source software contributions do allow hiring managers a window into a candidate's ability.
But the vast majority of fields do not lend themselves to these types of evaluations and thus most hires are made based on resume highlights and a candidate's ability to talk about stuff they've done.
This is inefficient at best, and counterproductive at worst.
When I think about some of the best people I've worked with, it wasn't their degree, their previous employer, or their ability to generate articulate work-related stories on the fly that made them effective. It was their creativity, their attention to detail, their initiative, and their drive that set them apart.
For most ambitious people, finding a place where they can do great, interesting work, be recognized for their contributions, learn, grow, collaborate with good people, and make a meaningful impact (however they define it), is a crucial aspect to their general happiness and well-being.
So while organizations are indeed struggling to hire the top 1% of candidates, the best companies also get scores of job candidates coming through the door that they are trying to filter.
How do you stand out as a great candidate?
You do a 10x Job Application.
Breaking Down the 10x Job Application
A 10x Job Application is where you go way above and beyond the required elements of a typical job application (eg resume + cover letter). The goal is to demonstrate your commitment to the organization, your resourcefulness, and your ability to create something tangible, useful, and unique. This offering breaks hiring managers out of their daze of sifting through resumes, and gets them sitting up saying "Wow!"
It's basically a demo of your work product. It should show off your personality, convey your understanding of the organization's needs and styles, and convince them that you have the skills to get the job done and the initiative to make things happen.
This is probably easier shown than explained. So here are some of examples.
Examples of 10x Job Applications
Many of these examples come from my own experience because I know the full story and have details to share. But there are tons of others out there as well.
Airbnb
True story: I applied to work at Airbnb in a community support role in 2009. I didn't have much experience, but I made this deck to go along with my resume and interviewed on the roof their office on Rausch street. I didn't get the job (they decided they were looking for someone more senior) but got the nicest rejection letter ever. However, Mashable does report that one of Airbnb's marketing directors stood out by illustrating a 2 page comic book about his interest in the company, while another developer was flown in within 12 hours of submitting a redesign of the Airbnb.com homepage and hired the next day.
Ridejoy
Margot Leong, our community manager and first hire at Ridejoy, blew all of us away when she made a 4 minute long video slideshow explaining why she would be perfect for the role, making jokes about our hair and referencing her experiences in travel, marketing, and building community. Margot, if you're reading this, sorry to put your stuff on blast but hey, I put my even more lame 2009 deck up there so we're even. =)
"It took two weeks to research Ridejoy extensively, conceptualize and then create the presentation. It sounds cliche, but I really did enter into the application process with a 'go big or go home' mentality, with the understanding that if it didn't work out, I still learned a lot in the process," says Leong.
We still put her through a serious interview and even subjected her to a weekend work session (I can't believe she didn't just laugh at this point) and ultimately hired her. She killed it, and continues to kill it today at Gusto (formerly Zenpayroll).
Presidential Innovation Fellowship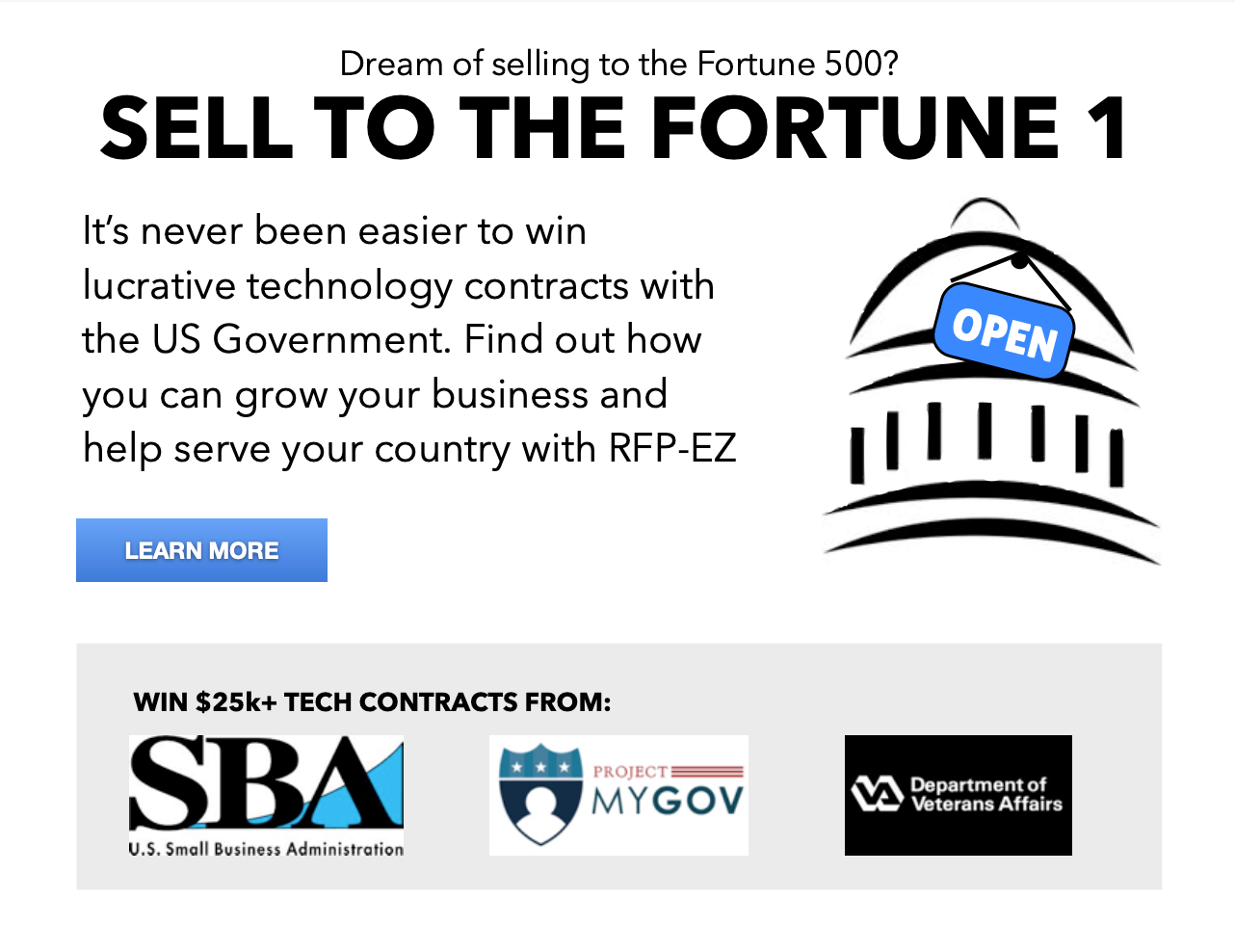 When I was applying to work as a Presidential Innovation Fellow, I was gunning for a role at the Small Business Administration on a project called RFP-EZ.
During one of the early interviews someone made the point that while businesses often brag about selling to "The Fortune 500", the federal government as a buyer is kind of like the Fortune 1.
I liked that name so I built a site: selltothefortune1.com (now down) and even made a marketing video / screencast promoting the site to an audience of small business vendors.
While I didn't get that particular assignment, I had a video embedded in the site and my video host (Wistia) gave me analytics that people from the network [Executive Office of the President] viewed the video multiple times so I know it made an impression 😎. Ultimately I was selected I got a wonderful experience as a PIF at the Smithsonian.
Microsoft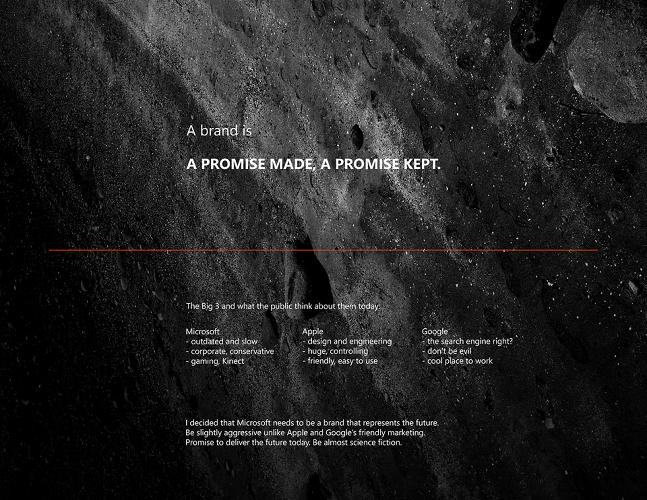 In 2012, Andrew Kim, a 3rd year student at the Art Center College of Design in Pasadena had an assignment: redesign the popsicle stick in three days. He was asked to think outside the box. On the day of the presentation, he showed his professor and his classmates not some new frozen treat, but a stunning and bold redesign of the Microsoft logo. He posted the entire concept on his blog, which then got picked up by many news outlets, including FastCompany.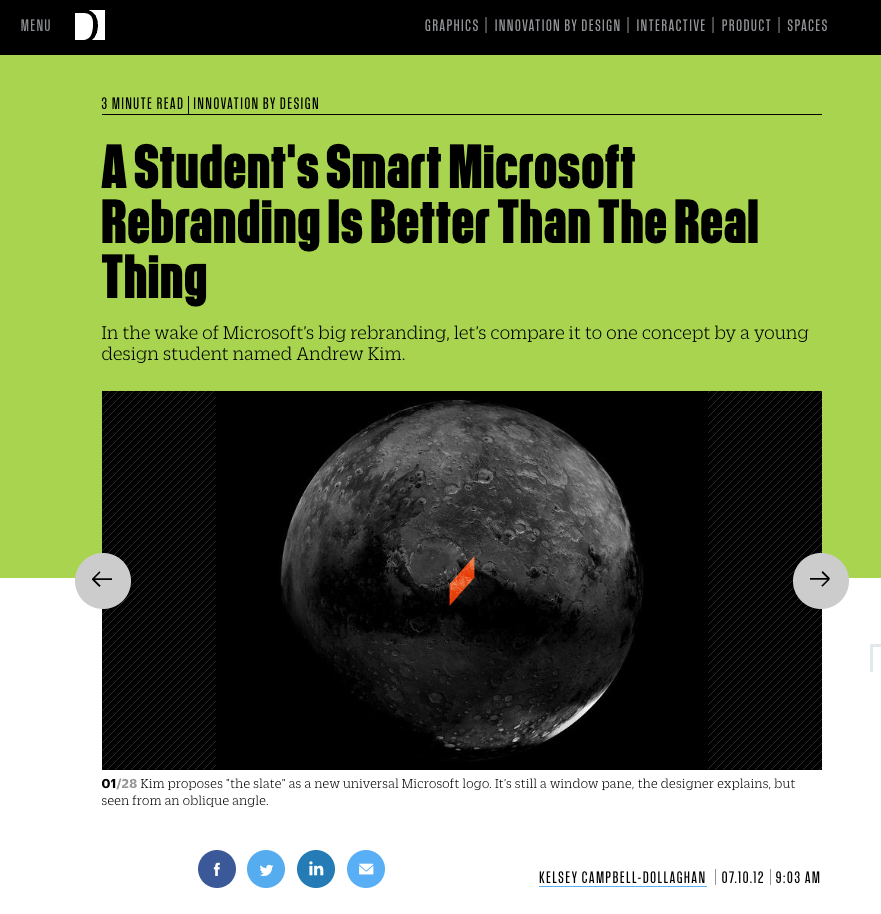 The result? His inbox was inundated with job offers and he ultimately accepted a role at, where else, Microsoft, working on a secret project for Xbox. Years later, I still think this logo design is smart and cool as hell.
Percolate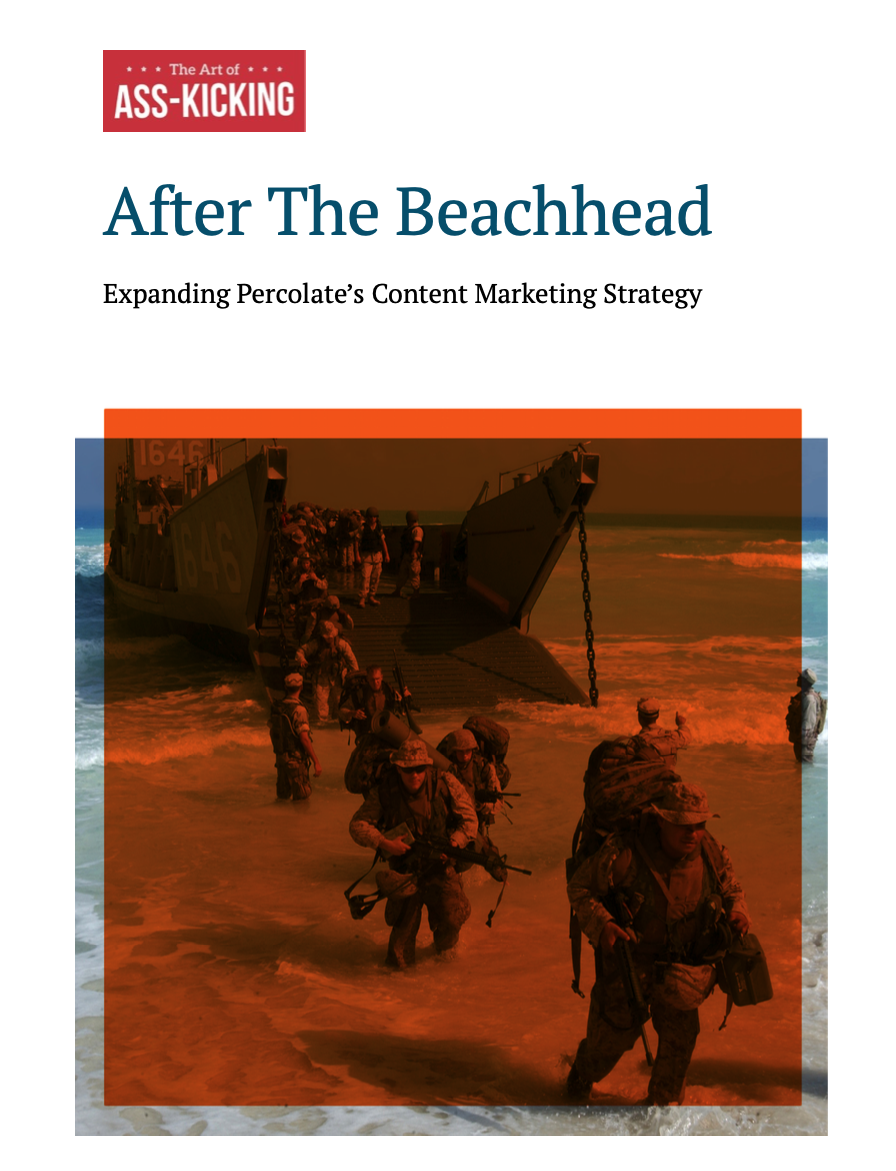 When I was interviewing at Percolate, I put together a 20 page PDF outlining a multi-phase marketing campaign around generating leads, drip email campaigns, ad units, blog as publication, and ultimately a conference. I designed the PDF to look similar to the company's own branding and pre-existing style on their white papers, and focused on actionable steps that made sense for the company as it grew. We ultimately implemented many of those ideas (not that they were ground-breaking, but still nice to be right) and obviously I got the job.
Ideo.org
When one of my friends was interviewing at Ideo.org for lead a new kind of incubator for social enterprises, she decided to do her own 10x job application. She interviewed a dozen folks, from startup founders who had gone through accelerators, social venture fellowship winners, venture capitalists, and grant makers and built out a deck full of ideas and considerations about scaling the ideation -> launch process. Her plan worked, and she heard back from Ideo, but ultimately chose to join another firm instead.
Etsy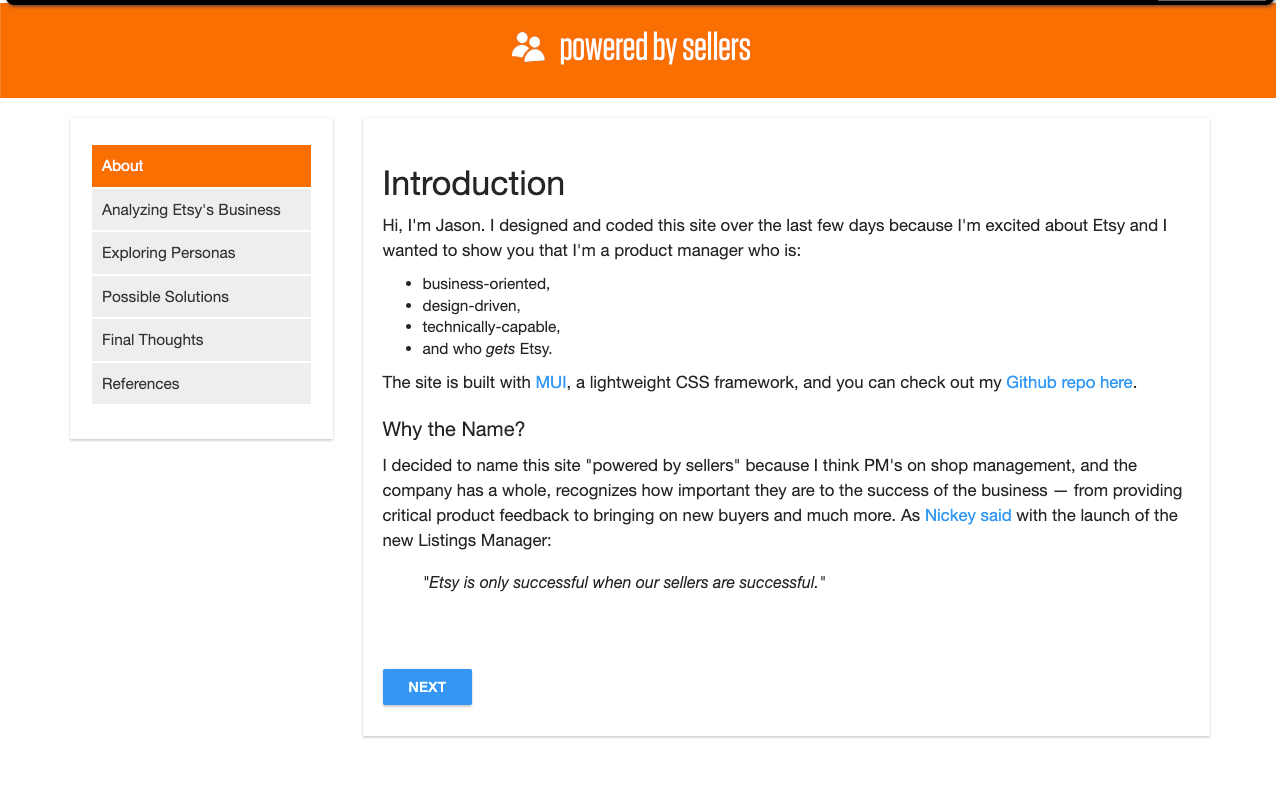 Finally, when I was applying to work as a product manager at Etsy, I wanted to show that I both had good product sense and a bit of technical and design chops. I read a bunch of articles on Etsy (including their S-1), put together a website called Powered By Sellers, used a material design framework called MUI, ran a SWOT analysis on Etsy, generated personas, and described some product ideas that might come out of those personas. One of those ideas, "build a manufacturing network", has since become a real thing: Etsy Manufacturing. The project was a blast and got my brain really geared into the world of Etsy. I got the gig and months later, SVP of Product Mike Grishaver still remembered things I had put in the site.
Birchbox
After reading my post, my coworker at Percolate Barbara Sellmeyer wrote me with a really great story of her own job application:
"When I was interviewing for Percolate, I also had my eyes set on Birchbox. I sent through an application, but after learning more about their company and the ladies who run it, I felt they were anything but ordinary. So I made my own Birchbox – the BarbaraBox – and had it hand delivered to the CEO's. My roomate is an art director so made the logo in their font. My box mirrored the set up of theirs – it had a card on top explaining the contents – basically a sample of my resume. Inside I had sample size bottles with stickers on it that had parts of my resume, recommendations, and fun facts." – Barbie
The box got the attention of the CEO and she reached out to Barbie right away. After starting the interview process, Barbie discovered that the opportunity wasn't exactly the best fit and she ultimately took a role at Percolate instead. Still, it's a great example of how a 10x Job App can rocket a candidate all the way up to the top of an organization.
Doing Your Own 10x Job Application
A couple of final considerations:
Doing a 10x Job App takes a lot more time and effort and forces you to focus on the opportunity you're most excited about
Make sure to focus the project not on (just) yourself, but on how you can make a great contribution to the organization you're applying to
Get out of the building. Do your homework and push yourself to really understand the organization as best you can
Everyone can be creative. If you aren't a designer, making a slide deck (bonus if you talk over it with a Loom video), a spreadsheet, a roadmap, a series of short-form videos, or just a really well-done piece of writing can be powerful
Have fun with it!