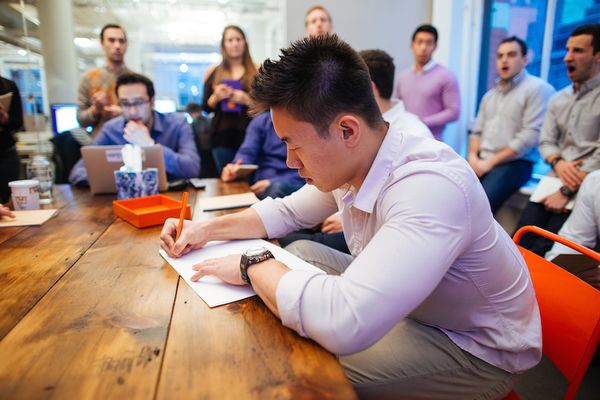 You Had One Job
A list of all the jobs I've ever had
---
A few months ago, Rick Webb, co-founder of The Barbarian Group, joined my company Percolate as VP of People Operations. Rick is a top candidate for being the most interesting man in the world, particularly because he's had a ton of different jobs. 82 different ones to be exact. It's fascinating to think of this person you know as operating in such a wide variety of roles. And it's not just Rick. My coworker Monik made his own list, 25 Years, 25 Jobs, that's pretty neat as well.
My parents' generation grew up with the expectation that they might have only one job (or at least one employer) for their entire lives. But even for them, that idea was false — a BLS study in 2012 found that young Boomers had 11.3 jobs from age 18-46. That's a new job every 2.5 years! So anyway, I think our professional lives are only going to have more variety and change, though I can't imagine I'll triple this number in the next 14 years, but who knows!
Anyway, here you go: a list of every job I've ever had. I wasn't paid in all of these, but each were serious commitments to organizations and mattered to me greatly when I was involved in them.
gymnastics coach (mostly working trying to keep active little boys from running away from our section of the gym)
gymnastics camp counselor (the above job + herding kids onto and off the bus + settling Ice Pops disputes)
intern at a chip design software startup (helped CEO draft speech to Carnegie Mellon, evaluated software, and organized files)
teacher assistant at Chinese school (helped kids with their assignment, kept them from goofing off)
retail associate / cashier at the Stanford Store (the summer was slow so lots of time to surf the web)
director of production for Stanford Scientific Magazine (managed a team of folks who used Adobe InDesign laid out the graphics for the magazine)
research assistant at the Steinberg neurosurgery lab where we gave normal and mutated mice cerobrovasular insults (aka a stroke), then measured their functional recovery
student caller for the Stanford Fund where I dialed up alumni and asked for money – my first sales job
intern at a nonprofit organizing students to fight HIV/AIDS (helped with campus recruitment)
athlete and team captain of the Stanford Men's Gymnastics team (learned that true respect is earned by coming through time and time again in tough situations)
co-founder and executive director of Gumball Capital, a nonprofit that ran entrepreneurial competitions at colleges and high schools to raise funding for microfinance loans
board member of Gumball Capital (one step removed, set high level direction, eventually had to shut down the organization, which is a huge PITA)
chief operating officer at The Stanford Daily (brought in new sources of revenue and initiated a major digitization project)
customer scout at isocket, an ad tech startup (sales, marketing, customer support – my first real startup job)
blogger and proprietor of The Art of Ass-Kicking (learned a ton about writing and how to market content)
co-founder of Ridejoy, a peer-to-peer long haul marketplace (launched out of Y Combinator, raised $1.3M, grew to 30,000 drivers and passengers, built a sweet iPhone app)
teacher of The Science of Willpower and Habit Formation (based on a student course I taught at Stanford, helped 160 people learn how to master their behavior)
content marketing consultant (created content for various startups and trained a 50 person team at international bank on blogging)
author of Winning Isn't Normal, Guide to YC, the Stanford Spirit (I love creating books and will make many more over my lifetime)
presidential innovation fellow at the Smithsonian (learned to navigate bureaucracy and build product)
marketing manager at Percolate (create and manage creation of content – sales collateral, thought leadership, video, etc)
Looking at this list, a couple things stand out:
Specifically, there's a strong education component to many of these jobs – either through writing, instruction, coaching, or some other mechanism.
Many of these jobs also involved content creation (even, for instance, the team captain job, where I started a "Freshman Manual" tradition that I think we still keep). I can recall having to learn, use, and sometimes train people on new pieces of software in many jobs.
Finally, each of these jobs helped me develop different types of social skills, from persuasion to listening to directing to presenting, and how those skills make such a difference in my effectiveness today.