Howdy y'all,
I hope you are staying safe. Between a virus and raging fires, 2020 continues to remind us of an eternal truth. This week we are talking about my new job, insights from an Apple software engineer who demoed to Steve Jobs, and a venn diagram of writing tips.
Let's go!
---
1. 💼 Midgame → Facebook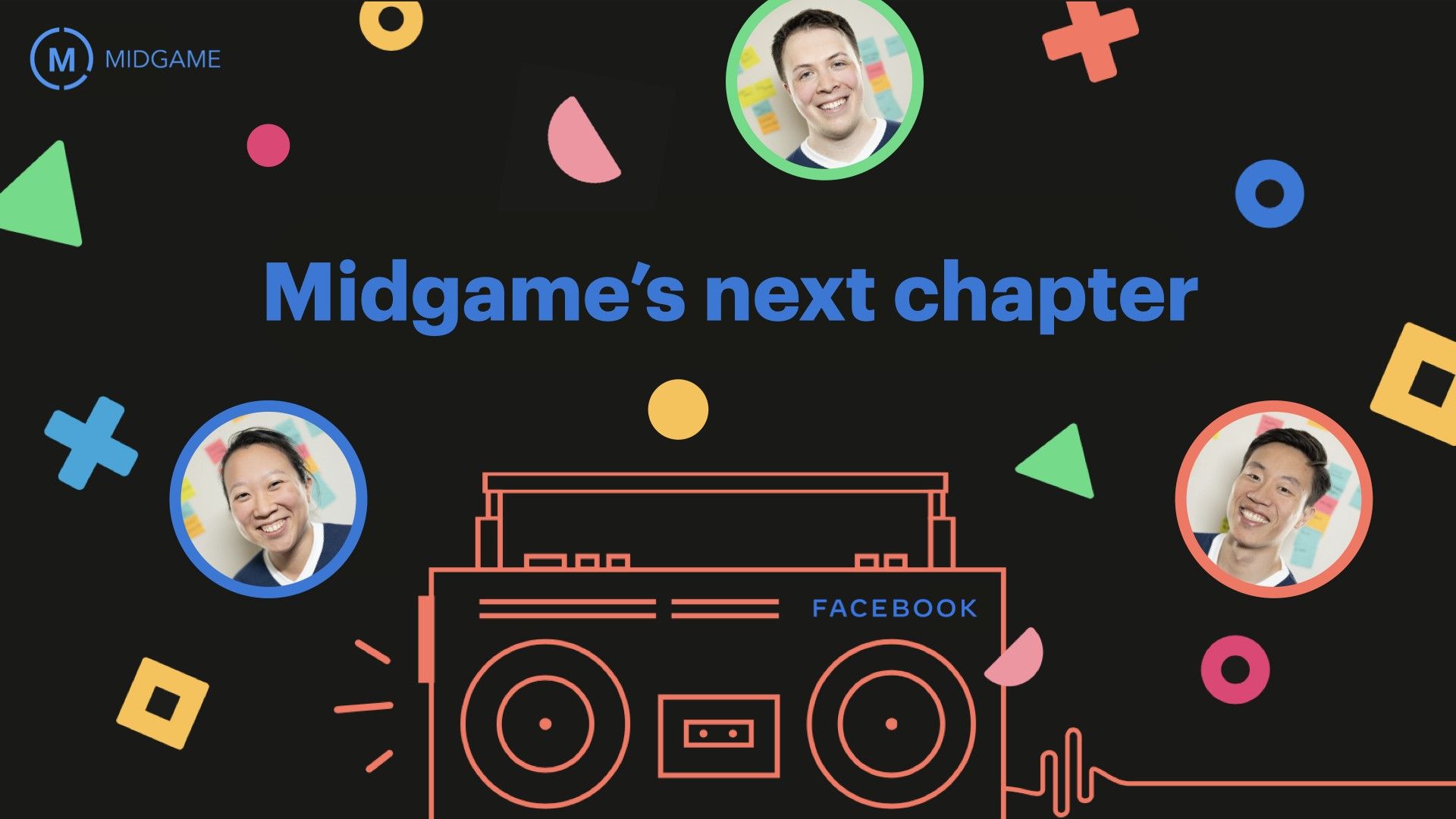 I teased this in MC#010 but the news is finally out. The Midgame team officially joined Facebook a few months ago and I started a new role as a product manager, building knowledge management products for internal teams.
I onboarded 7 weeks ago onto my team, Knowledge Products, part of Enterprise Products, a pillar within Enterprise Engineering. It's been a blast so far and despite a virtual onboarding, I was up and running pretty quickly. I don't love doing all my social interaction over video calls, but otherwise the work is engrossing and I like my coworkers.
Of course, this was a bittersweet ending to my 3 year journey as a startup founder, in which I ran 2 different companies. At this point, I've spent about half my career as an entrepreneur and the other half inside of small and medium sized companies. My last PM job was at Etsy, a company of about 1000 people. Facebook is about 50x bigger and thus the biggest company I've ever worked at by far.
I'm excited and daunted by the opportunity to build at scale and be a voice for good at the company. Read more on Medium
---
2. 👨🏻‍💻 What Makes for a Great Demo
A lot has been made about Apple's hardware / product prowess - the click wheel of the iPod, the slimness of the Macbook Air, but just as notable are Apple's standout software, like Safari, Keynote, iOS, and many more. In Creative Selection, long-time Apple software engineer Ken Kocienda takes us into the world of software development, and the all important demo, which he gave directly to Steve Jobs on several occasions.
He describes his first experience with a great software demo shortly after joining Apple in 2002 and being tasked with building the Mac OSX's web browser (which did not yet exist). While Ken and his manager Don tried to wrangle the massive Mozilla Firefox, a new programmer named Richard took an open source browser for Linux, called Konqueror, and made it work for the Mac in a genius demo in just a few days. His demo only really only did 3 things: load web pages (text + images), navigate hyperlinks, and support the back button and was full of hacky code. But it proved the idea was possible and shifted the direction of the project.
Software demos need to be convincing enough to explore an idea, to communicate a step toward making a product, even though the demo is not the product itself. Like the movie, demos should be specifically choreographed, so it's clear what must be included and what can be left out. Those things that aren't the main focus of a demo, but are required to create the proper setting, must be realized at the correct level of detail so they contribute to the whole rather than detract from the vision.
- Ken Kocienda
A prototype is something you can use to test out a product's functionality—does it hold up in real-world conditions, does it short-circuit under load, does it "do the job?"
A demo is something you use to convey a product's fidelity. How it will feel to use the product in its final form. Speed, accuracy, delight → "does it feel right?"
It reminds me of the Bel Air trailer. Morgan Cooper, a passionate fan of Will Smith's Fresh Prince of Bel-Air retold the story of a rebellious young black man from West Philadelphia forced to live with his wealthy uncle and his family in an elite neighborhood in Los Angeles.
While the original show was a fun sitcom in the 90's, Cooper's trailer reimagines the story as a modern drama with real stakes, emotion, and beauty. It only takes on 217 seconds, and each frame, each line of dialogue, every micro-expression, is exquisitely written, shot, and delivered.
One year and six million views later, Cooper is confirmed to be co-writing, directing, and co-executive producing, with Will Smith, this new reboot. The demo was a success.
---
3 ✍️ A Venn Diagram of Writing Success Factors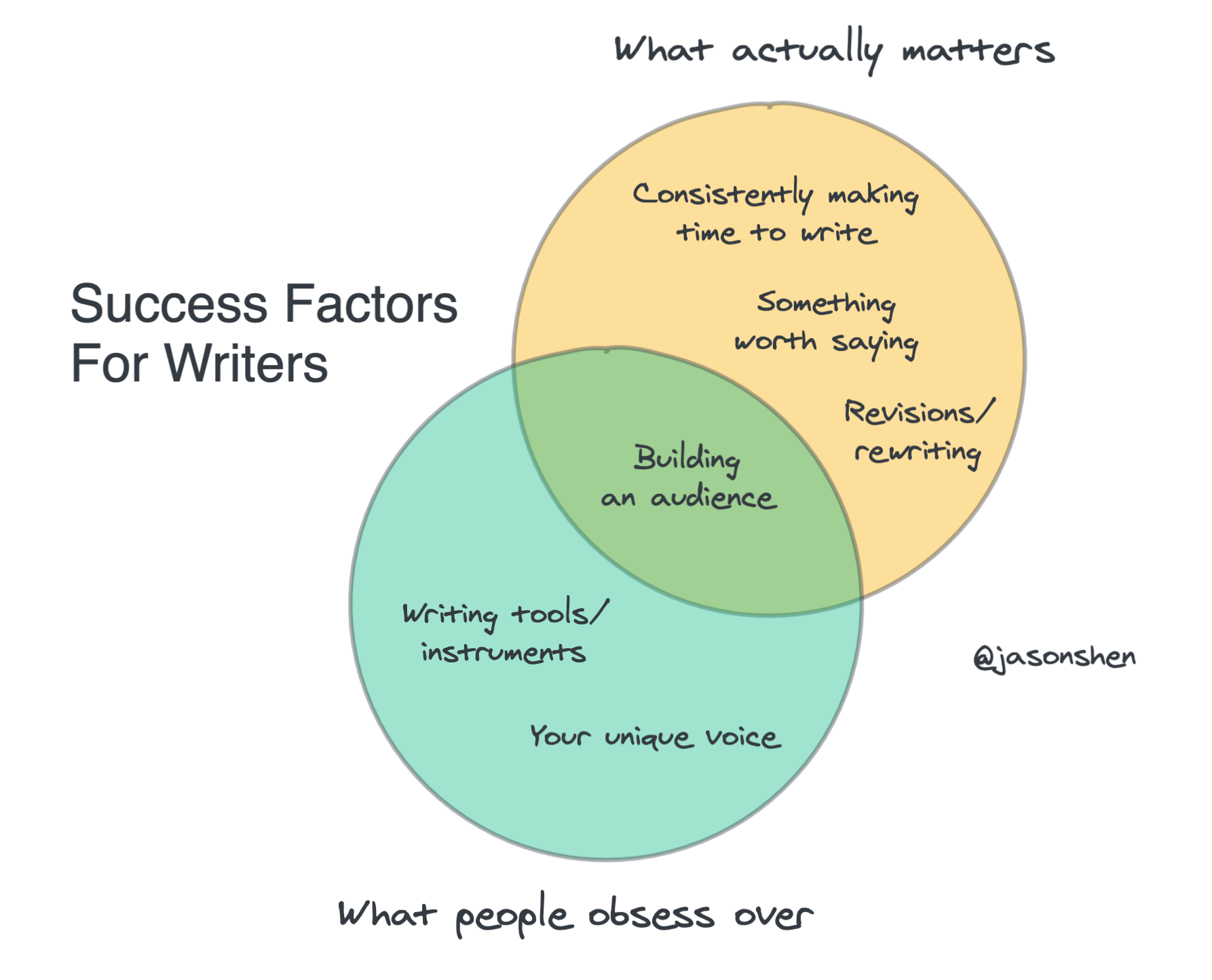 Somewhat inspired by a recent tweet:
---
And that is a wrap for this edition! I'm starting to think that 3 is the right number of ideas to make connections around (obv depends on the content but curious to get your thoughts)
We broke a 100 readers over the last week! Thanks everyone who's been supporting this writing effort. It's been so fun and great to see it continue growing.
Jason