Hey friends,
This is the 9th edition of Making Connections, where we take a random walk down tech, fitness, product thinking, org design, nerd culture, persuasion, and behavior change.
This one is a little different because I'm sharing with you a project I built called Decade of Insights. But first…
---
1. 🇺🇸 Rampart's Red Glare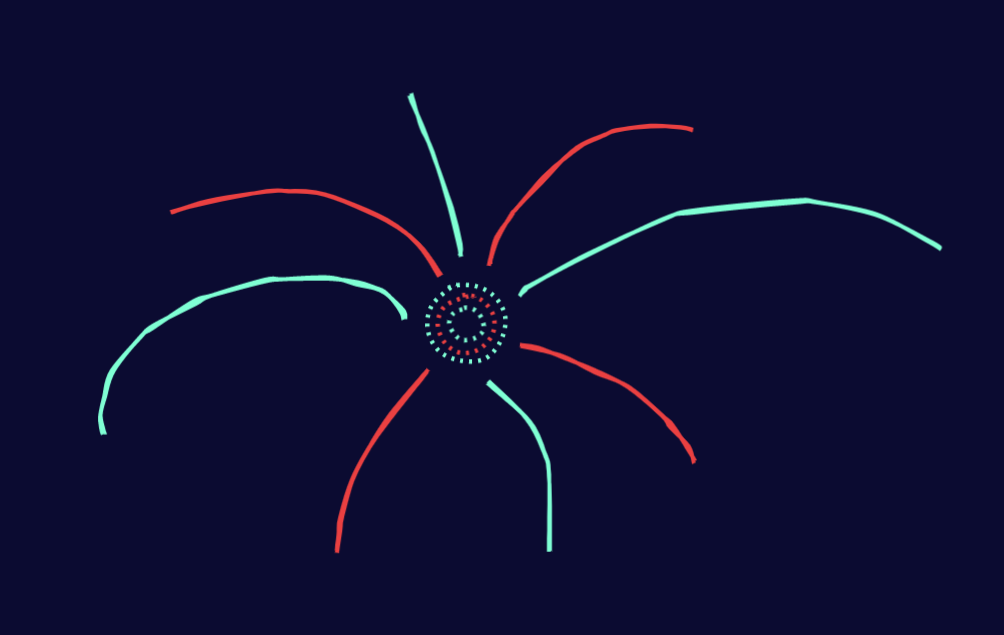 First off, if you are in the United States, today is Independence Day (and Malia's 22nd!)  🎉🎆 It's a weird time to be celebrating but let's take the wins where we can get them. The republic lives on, for now.
I've been watching Hamilton on Disney+ because I never got to see it on Broadway. It's a thrilling and gorgeous reimagining of our nation's founding myths—and feels far too optimistic in these times. Fast Company puts it well:
Hamilton presents a beautiful vision of a multicultural past—and future—to work toward. But as we grapple with America's past, wondering whether the founders of the country had a few bad apples in their ranks, or whether the founding of the United States on the backs of slaves makes it rotten at its core, the Obama-Hamilton dream has never felt so far away.

Five and a half years after it came out, the play remains a masterpiece, but also an illusory fantasy.
I wonder if Hamilton would have had the same success after the protests and pandemic that are still roiling through our country (MC#005).
---
2. 📚 Decade of Insights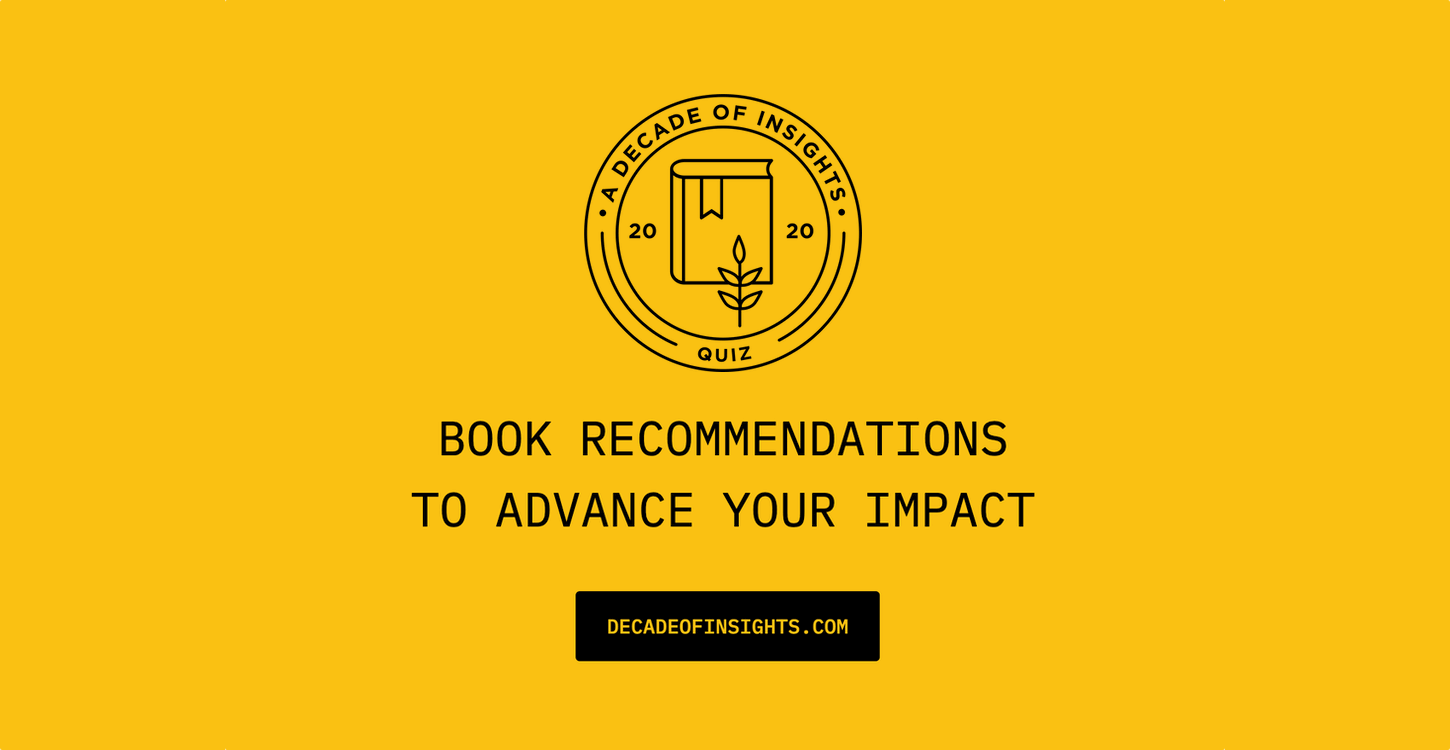 This is actually a project that I started over the holiday break (yes 6 months ago) and decided to revive because shipping matters. It's a collection of ideas from my favorite books on startup, leadership, marketing, social justice and more PLUS it contains a short interactive quiz that recommends books to you based on your Impact Type.
After you take the quiz, it'll present a sign up form to get the full document of all the books, my summary and favorite quotes, etc. But you're already a subscriber (so cool right), so you can just download the PDF here.
Need more info? Here's my intro in that doc:

Books are powerful.

The way great authors can synthesize and encode knowledge in them is one of humanity's greatest accomplishments. It lets us pass on wisdom and share what the best of our species has learned.

Between 2010-2019, three million books were published in the US. But which ones really mattered? Earlier this year, I reflected on a decade of reading, consulted my notes, and identified 20 books on ten important topics that stood out.

This list includes both nonfiction on how the world works as well as fiction on how the world might be. I've shared my thoughts and key quotes from their pages and encourage you to dig deeper.

Not every book stands the test of time, but I believe these ones will matter in 2025, 2030, and beyond.
---
3. ⛑ Impact Type
This is based on the idea that everyone effects change in a different way, based on two major dimensions: orientation and location.
Orientation: Strategy / Story vs Technology / Tactics
This is really a question of whether you prefer being in the realm of grand narratives, of big picture thinking, of using stories and arcs to rally people, or if you'd rather be in the weeds, on the ground, in the trenches or labs, getting your hands dirty with the people and mechanical or digital elements that can create change.
Location: Insider vs Outsider
This one is straightforward: would you reform a system from the inside, or break it down from the outside? In evolutionary terms, this is gradual change vs punctuated equilibrium.
See the 2x2 matrix: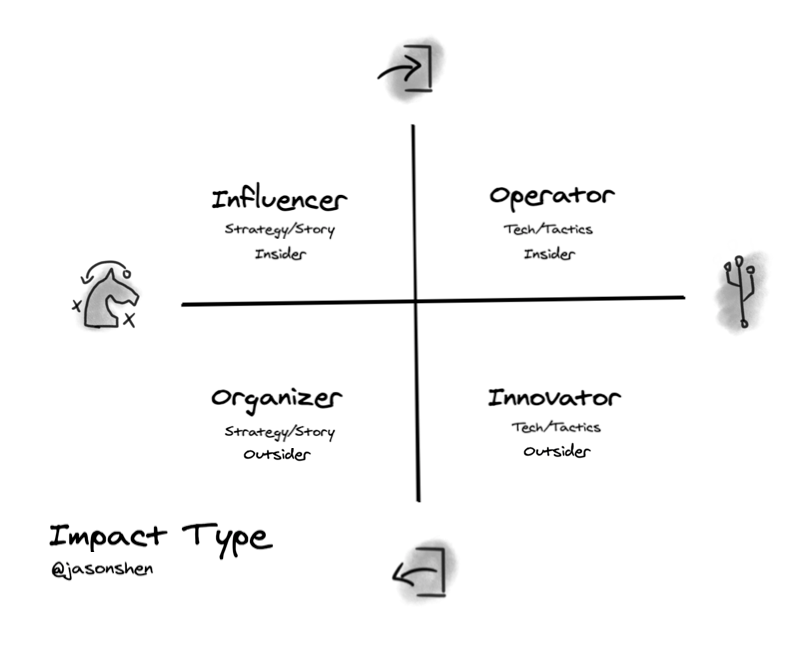 And that's it for edition #009 for Making Connections. Thanks for joining this band of curious readers. Would love to hear your thoughts (just reply or click the comment button to start a conversation!)
Enjoy,
Jason