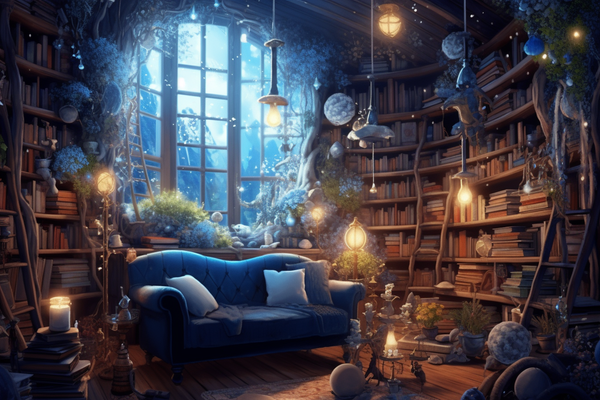 The 2023 Readership Survey
The readers of Cultivating Resilience are experienced, female, Asian, across tech & nontech, in both individual and leadership positions, and interested in thoughtful, authentic takes on facing challenges.
---
Between late April and early May 2023, I ran a survey of Cultivating Resilience readers. My goal was to understand who my readers are, particularly my most engaged / highly invested ones, and what they're looking for from the newsletter.
Recruitment
I included the survey link in several newsletter issues and did a dedicated email to people who had high open rates and had been subscribed for at least 3 months. I also used some giveaway materials as prizes—including a book, a journal, pens, and time with me. So this already represents a group of folks who are pretty dialed into me and my content.
(Congrats Helen, Cheryl, and Newvick!)
Reader Engagement
Using the Superhuman product-market fit framework, I asked readers to indicated how disappointed they would be if they could no longer read my newsletter. This is a proxy for how much they value what I create.
Of the 42 respondents, 16 (38%) indicated they'd be "very disappointed". I will call this group "engaged readers" throughout the summary.
The remaining 26 (62%) indicated they'd be "somewhat disappointed". I will call this group "typical readers" throughout the summary.
No one said they'd be not disappointed (yay!)
Who Reads Cultivating Resilience?
Gender: Readers skew female, with the difference found entirely in the Engaged reader group.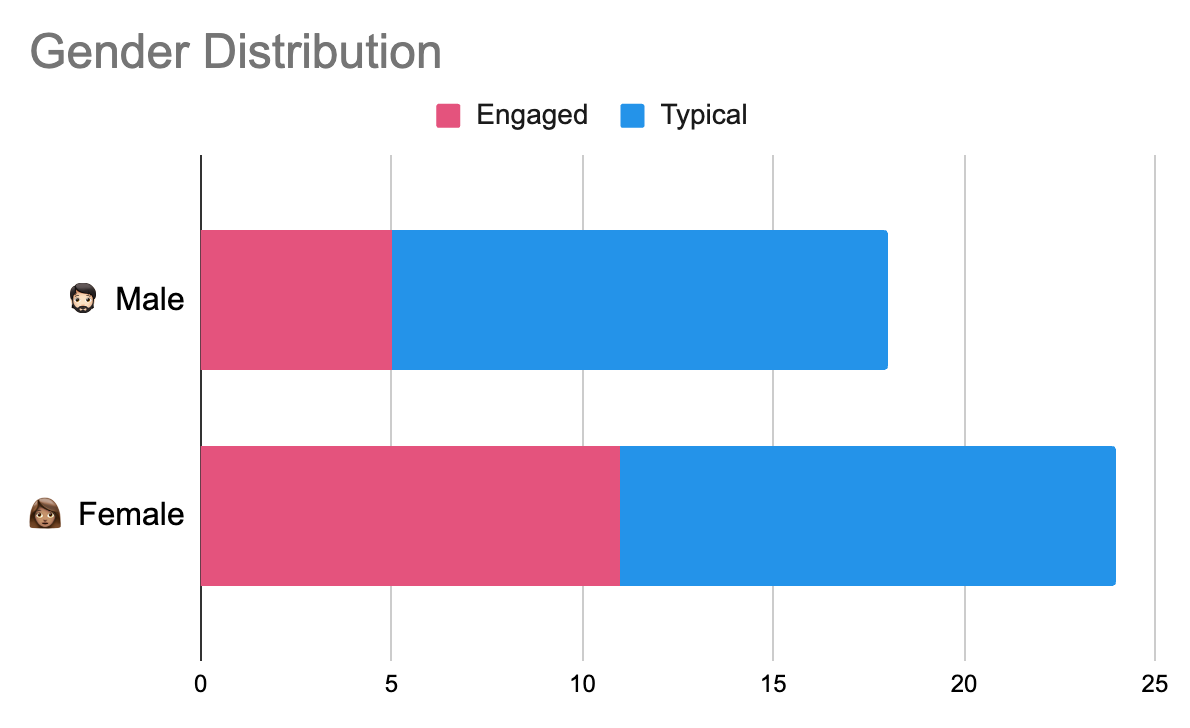 Race/Ethnicity: Just over half of all readers identified as White and nearly two-fifths identified as Asian with the remaining 10% identifying as Black. Within the engaged reader group, it was majority Asian.
Experience: I'm a little surprised by how experienced readers of this newsletter are. Folks reported an average of 20 years of work—with engaged readers being slightly younger than typical readers. Also that there's kind of a double hump between early career and advanced career folks for engaged readers.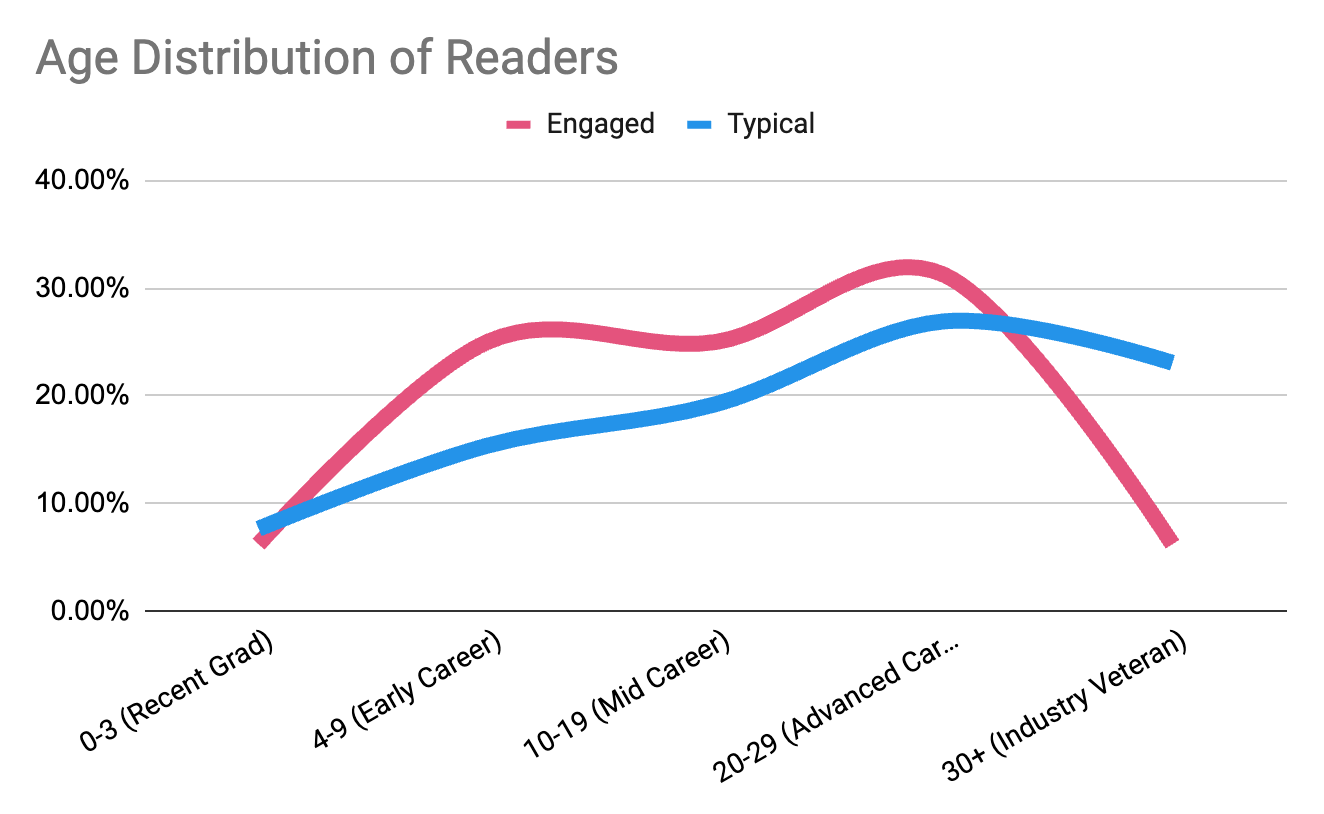 Roles and Industries: Key industries represented are tech, education, real estate, consulting, and management. There was a pretty clean split between Tech and Non-Tech across both Engaged and Typical readers.
Some notable job titles include CEOs, founders, managers, engineers, consultants, along with farm vet, gender avisor, and pastry cook 2. Additionally, a number of folks were self-employed or work in independent professional roles.
PMF: Ideal Audience
The Superhuman Product Market Fit framework I'm following has you really focus on your most engaged users to understand who they see themselves as, what value they gain from the product, and what they want to see improved—while also paying attention to typical readers. GPT-4 (via Poe) was big help here.
1. Burnt-out professionals and those facing challenges: Engaged readers mentioned that the newsletter would benefit those who are lost, burnt out, or scared of changes. Typical readers suggested that it would help anyone overwhelmed by a rapidly changing world or struggling in their careers.
Engaged: "Folks somehow lost in the industry, burnt out, scared of changes"
Typical: "Anyone who may sometimes feel overwhelmed by the challenges of a rapidly changing world."
2. Entrepreneurs and founders: Both groups mentioned that entrepreneurs, founders, and those in ambiguous or fast-paced situations would benefit from the newsletter.
Engaged: "Burgeoning entrepreneurs and freelancers"
Typical: "Founders"
3. Career-driven individuals: The newsletter seems to be helpful for early to mid-career professionals, those in the tech industry, and ambitious professionals looking to advance their careers.
Engaged: "All who are on the rocky career journey"
Typical: "Early career and mid career people who are advancing and need more advanced tools."
4. Personal growth and self-improvement seekers: Readers from both groups emphasized that people interested in personal growth, self-improvement, and developing a growth mindset would benefit.
Engaged: "People who want to internalize growth mindset and explore what it means from various angles/framings"
Typical: "Those interested in self-improvement"
5. Leaders and managers: Engaged readers mentioned that leaders and managers would find value in the newsletter, while typical readers specifically mentioned middle and upper-level managers, as well as decision-makers across sectors.
Engaged: "Leaders and people into achieving their personal goals as well"
Typical: "Middle and upper-level managers but also everyone!!"
There were no significant differences between engaged and typical readers in terms of the types of readers they believed would benefit from the newsletter. Both groups provided similar insights, suggesting that the content is relevant to a wide range of readers interested in personal growth, self-improvement, and career development.
PMF: Key Benefits
New perspectives and broader understanding: Readers appreciate the newsletter for providing new perspectives, with Engaged readers mentioning "thought leadership ideas" and "different perspectives to work and adjust for eventualities," while Typical readers highlight "new perspectives to help re-ground myself" and "viewpoints of the world outside my small realm."
Inspiration and motivation: Both sets of responses mention the inspirational aspects of your content, such as "inspiration" from Engaged readers and "inspiration and improvement" from the Typical readers.
Personal and professional development: Both cohorts appreciate your newsletter for its role in personal and professional development, with Engaged readers mentioning "strengthen[ing] my leadership skills" and "rebound[ing] on my setbacks," while Typical readers discuss "learning more on leadership" and "how to do better in my career."
E: Emotional connection and personal growth: Engaged readers place a stronger emphasis on the emotional connection and personal growth aspects of the newsletter, such as "deconstruct[ing] my fears" and finding a "sense of catharsis" or "companionship" in reading about others overcoming challenges.
T: Industry insights and productivity tips: Typical readers place greater emphasis on industry insights and the application of knowledge, as they appreciate "industry stories", "productivity pointers", and "thoughtful ideas on what it takes to keep going." This focus is less prevalent among Engaged readers.
PMF: Suggestions for Improvement
1. Content variety and diversity: Both groups of readers expressed interest in seeing more diverse content, including specific examples, case studies, and stories that cater to a broader audience. Engaged readers mentioned the desire for more diverse stories of resilience, while typical readers suggested a mix of content types and lengths.
Engaged: "I'd love to see more examples of resilience from the African continent, or at least more people of colour" while a UK reader found it "seems very US-centric."
Typical: "Better mix of long and short form content."
2. Personal experiences and insights: Both groups appreciated hearing about your personal experiences and insights. Engaged readers suggested sharing personal resilient stories, while typical readers were interested in learning more about your current life, systems, and emotions during difficult times.
Engaged: ""You are one of the few people who I've seen discuss the specifics of their psychology and emotions when going through difficult things."
Typical: "Talk more about your current life, systems you have in place, things you're interested in doing professionally and personally."
3. Actionable takeaways: Readers from both groups expressed a desire for more actionable content and practical advice. Engaged readers specifically mentioned a set of recommended action items or a section with 3 to 5 actionable steps at the end of each article, while typical readers sought more tactical takeaways and strategies for specific situations.
Engaged: "Create some 3 or 5 actionable section at the end of your writing."
Typical: "Even more tactical takeaways and strategies for when you come up against xyz."
4. Length: While some engaged readers mentioned that they enjoy the current format and schedule but others desired shorter emails so they can be skimmed.
Engaged: "Honestly, make the emails a bit shorter."
Typical: "Keep the structure glanceable so I can still get the gist if I don't have a ton of time."
5. E: Community and engagement: This theme was more prominent among your highly engaged readers, who suggested holding salons again or creating a forum/community for discussing the topics covered in the newsletter.
Engaged: "I think it'd be cool to create a forum/community to discuss the various issues!"
Given your priority to cater to your highly engaged readers while not dismissing the typical ones, consider focusing on the overlapping themes of content variety and diversity, personal experiences and insights, and actionable takeaways. Additionally, you can explore ways to address the unique feedback from each group, such as fostering community engagement for highly engaged readers and improving format and length for typical readers.
Content Topics
I asked people to tell me if I should write more (+1), less (-1), or the current level on this topic (0), and summed up the points and divided by the respondents to get to normalized +/- score that indicates what people want to see.
Not a lot of surprises here, though I supposed my interests in ADHD and Generative AI need to be tempered by bread-and-butter coverage of resilience, adaptation, along with, a bit more surprisingly, on creativity, systems, and togetherness.
📊 Navigating / adapting to change
✨ Leaps of courage / risk
👁️ Creative thinking
⚙️ Systems thinking / mental models
🫶 Togetherness / science of the heart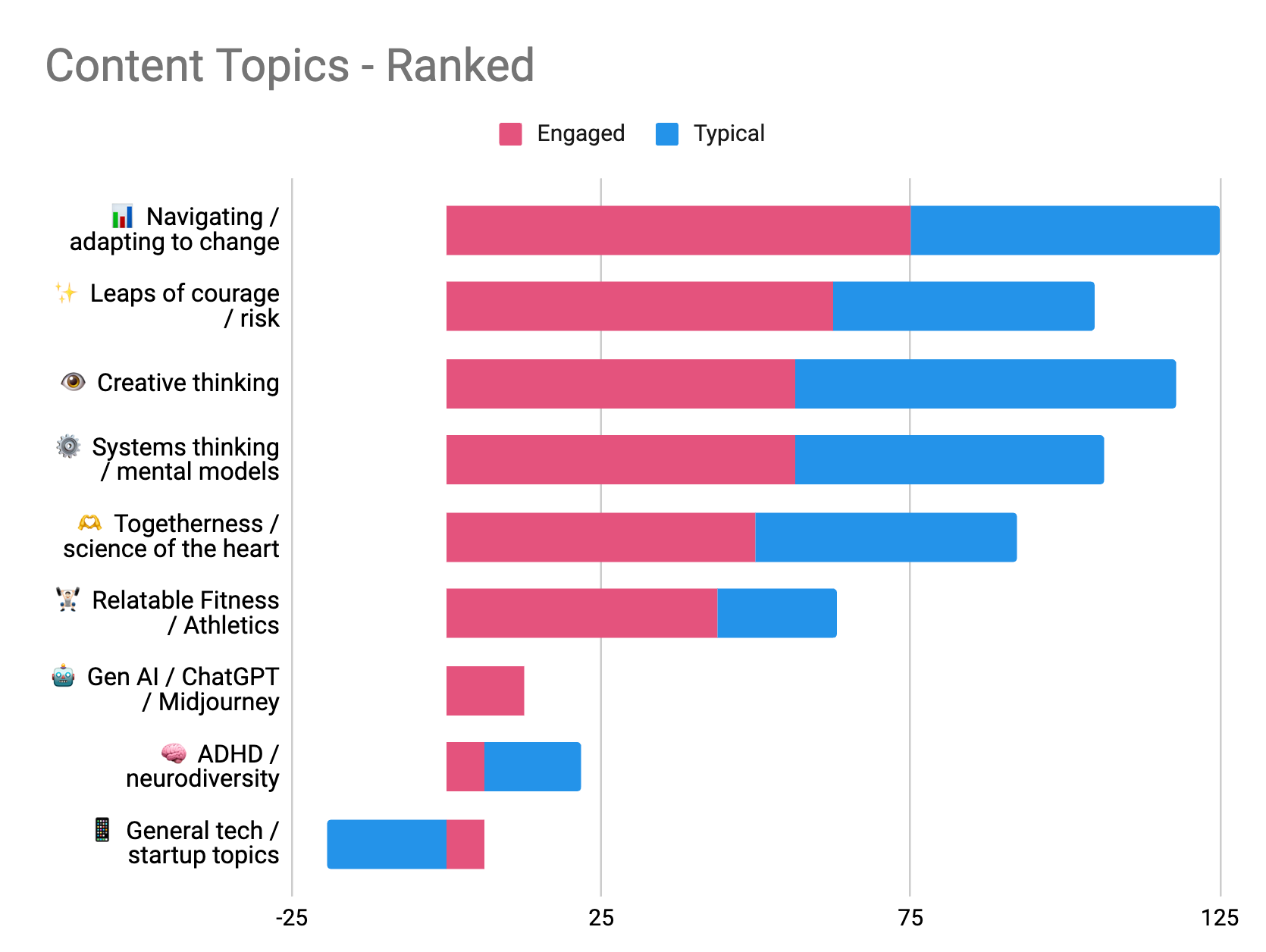 Content Formats
Using the same scoring system, I asked folks to speak to the types of formats that they'd be most interested in. Engaged readers largely agreed with Typical readers on the formats they liked, though less strongly in general.
To me, the biggest surprise is probably the fact that people really don't seem to like video. This is one of those areas where I'm going to respectfully disagree and keep going—because of that audience selection bias thing, though I may de-emphasize how much I promote those videos in the newsletter.
📝 Essays
🎙️ Interviews
📚 Book Notes
🔗 Links
✍️ Letters
🎥 Videos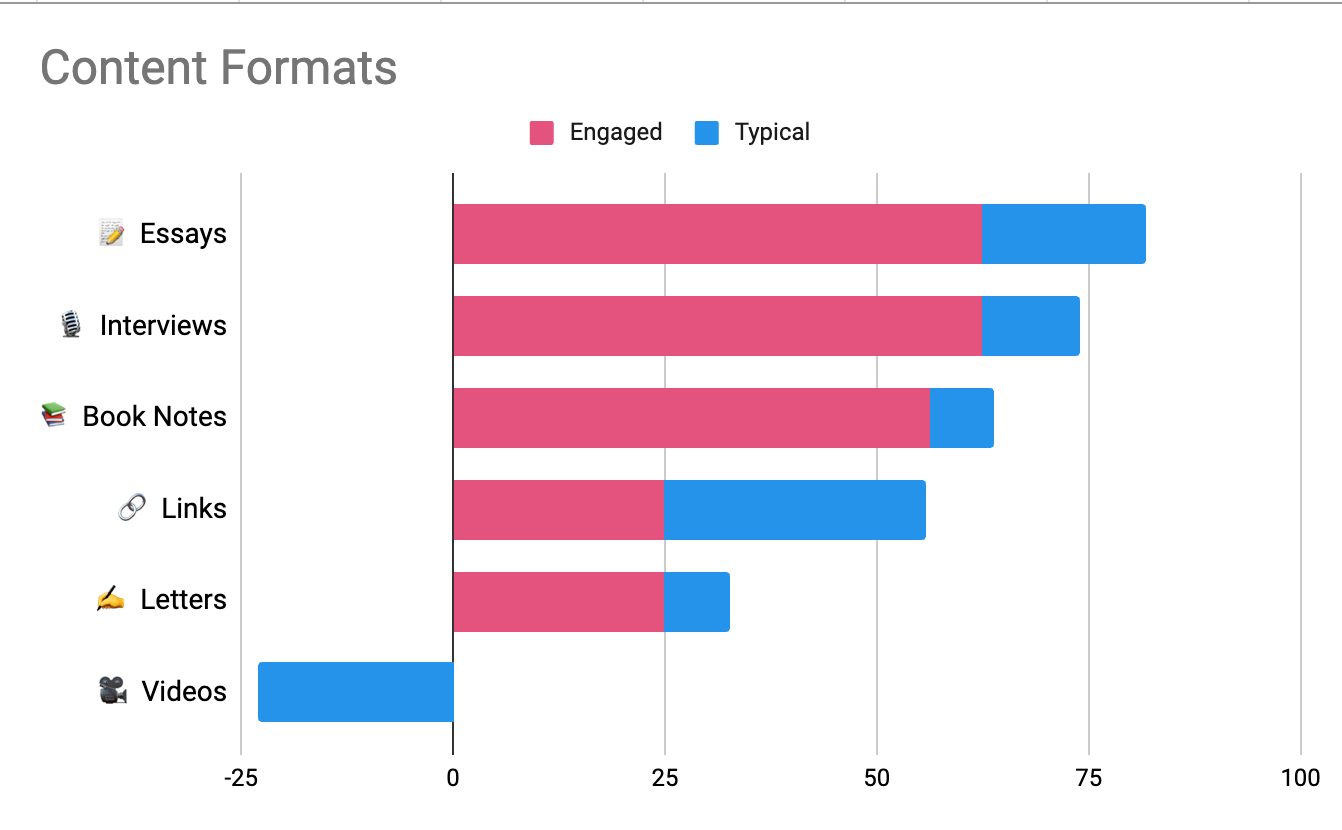 ---
Overall, I'm really grateful for this opportunity to understand my audience better. To understand that you are leaders and professionals from both tech and non tech industries, that you draw from across gender (skew female) and racial lines (skew Asian), and a broad range of roles and experience levels.
That you appreciate me for the nuanced thoughts, not the quick hits or tech news takes, that you want me bring authentic stories from me and others, via interviews or case studies, about how people navigate change, make leaps, think rigorously, and find creative ways forward with others.