💡
Cultivating Resilience
is a weekly newsletter about creative risk taking by executive coach & 3x founder Jason Shen.
Sign up here
.
Nearly two months ago, I went on my first silent retreat (CR#159) and I promised I would eventually share more about the experience. I made a video but since this is first and foremost a newsletter, here's what I'd like to share in prose form.
The video goes into more detail on some parts of the experience, but this letter also incorporates new thoughts and more references since I recorded the video only a a week or so after the retreat ended.
As an extroverted person who loves talking with people, I wasn't sure how I'd feel about not speaking for days on end while meditating for hours at a time. But this retreat taught me so much about the power of silence, self-reflection, and being present.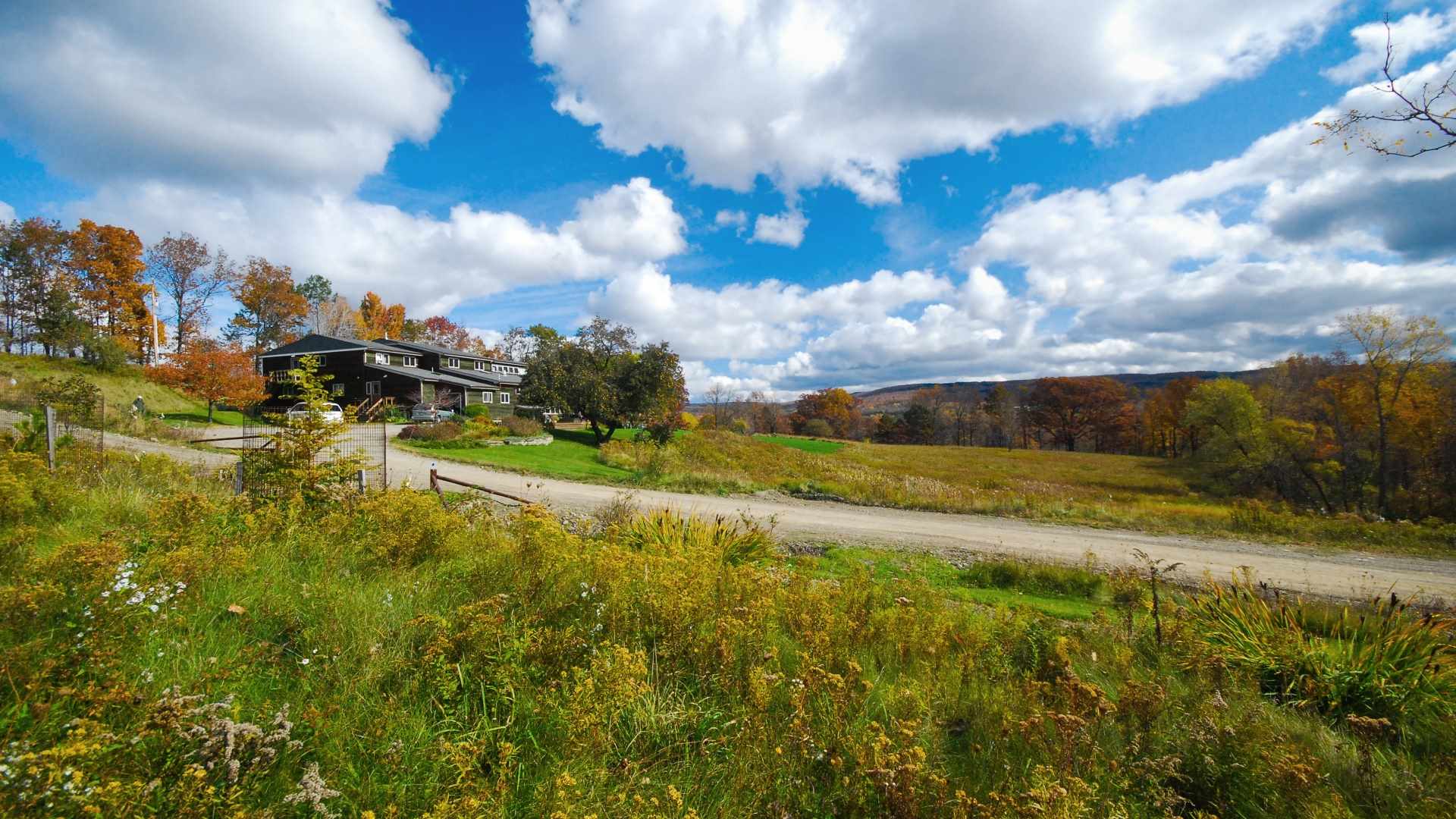 Arriving at the Springwater Center just an hour outside of Rochester, NY, I was struck by the tranquil setting—220 acres of meadows, forests, and hiking trails situated at a former farmstead. The rich sound of half a dozen types of birds filled the air, creating a lively yet calming soundtrack for the week.
The main building was designed by an amateur architect yet felt spacious with numerous dorm rooms, a spacious Solarium for meditation and lectures, a dining area, and numerous sitting areas with gorgeous views of nature.
Springwater Center was founded by a remarkable woman named Toni Packer, who was raised in the Zen tradition and was set to succeed the notable Philip Kapleau, one of the early Westerners who popularized Zen in the United States. However, Toni felt that despite Zen's claims to being a stripped down version of Buddhism's essential elements, there was still too much hierarchy and dogma.
She eventually left to start Springwater, talking half of the Rochester Zen membership with her in the early 1980's. She called her style "Meditative Inquiry", with a focus on curiosity and exploring one's moment-to-moment experience rather than grappling with formal koans and ran it for three decades before she died in 2013.
The emergence and blossoming of understanding, love, and intelligence has nothing to do with any tradition, no matter how ancient or impressive-it has nothing to do with time. It happens on its own when a human being questions, wonders, inquires, listens, and looks without getting stuck in fear, pleasure, and pain. When self-concern is quiet, in abeyance, heaven and earth are open.

Toni Packer - Lecture at Springwater Center Feb 10, 1991 (link)
The current staff and teachers at the Center continue in this meditative inquiry tradition including our retreat's instructor Richard Witteman, who sat with Toni for many years both at the Rochester Zen Center and then at Springwater. In his daily lectures, Richard encouraged us to ask open-ended questions like:
What do I notice right now?
What physical sensations am I feeling?
What emotions are arising?
What memories or thoughts come to mind?
The goal was to cultivate greater awareness, curiosity, and attention. To be alive to the present moment.
There were 12 timed meditations of 25 minutes each spread throughout the day, with consecutive rounds broken up a 7 minute walking break. The first round began at 6 AM and I had trouble adjusting to the early sleeping habit. For much of the week, I found myself fighting drowsiness frequently during my meditations, or daydreaming or even hearing songs repeat in my head (Destiny Child's "Bills, Bills, Bills" made an extended appearance).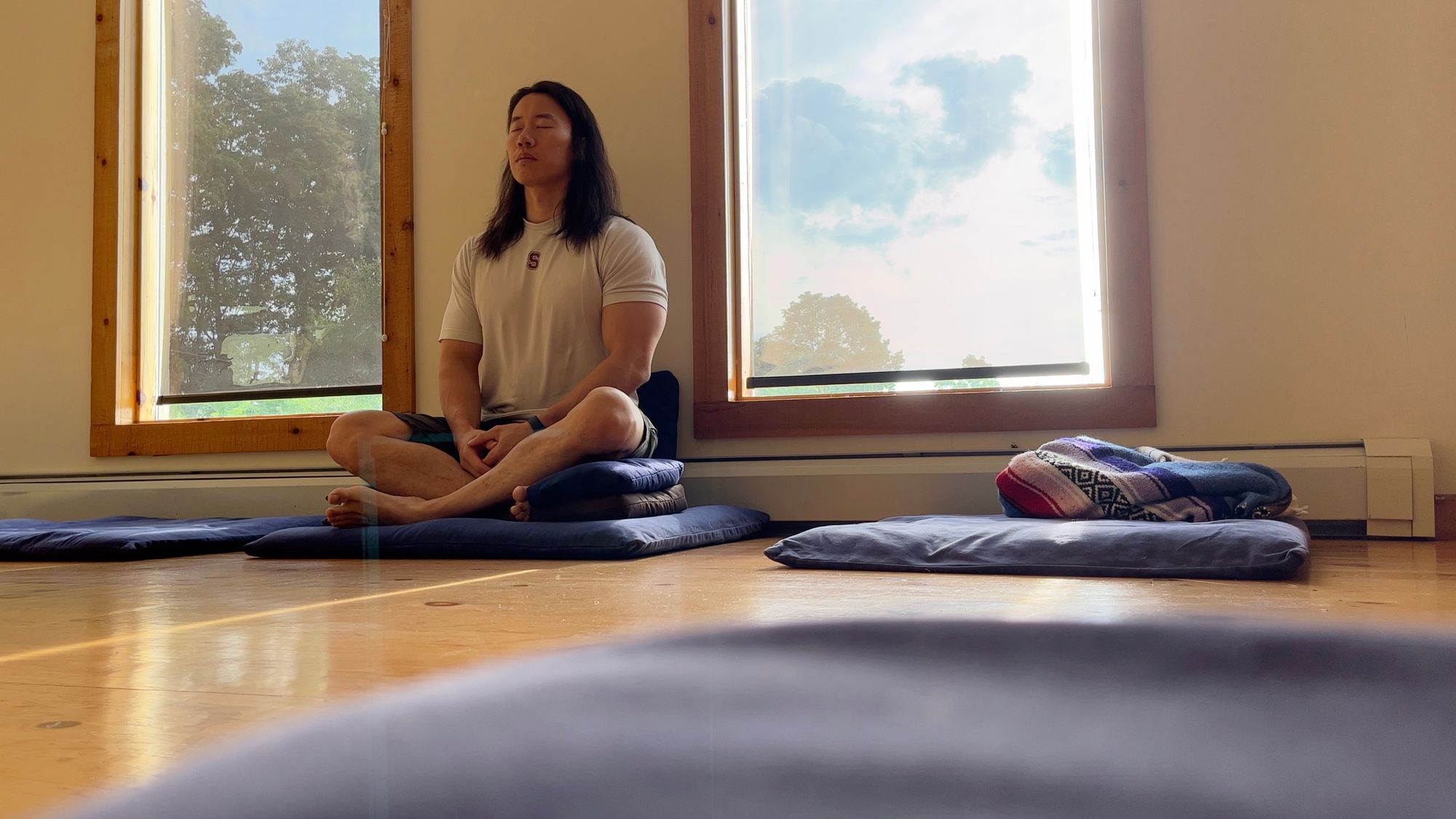 Because I arrived earlier in the day, I got to have a few conversations with fellow attendees before the silence began, which made silent meals feel less awkward. Without pressure to make small talk, I could tune into the food and the company. The silence felt natural rather than forced.
To support the staff and practice a sense of presence in daily life, each person contributed to the center's upkeep through tasks like washing dishes, sweeping floors or preparing meals. I enjoyed being on vacuum duty, a simple task which offered some much-appreciated physicality to balance all the sitting. I know that some retreat centers discourage exercise, but Springwater had a basement that was naturally cooler with some weights, a pullup bar and yoga mats, allowing me to sweat and work out between sits.
Interspersing sitting meditation with mindful walking allowed me to stretch my legs while staying centered. I appreciated this idea that meditation need not require rigid stillness. Trying different postures helped me find what worked best for my body. Lounge chairs made meditating comfortable; propping my knees up with little pillows reduced hip strain, standing or slow walking kept me alert.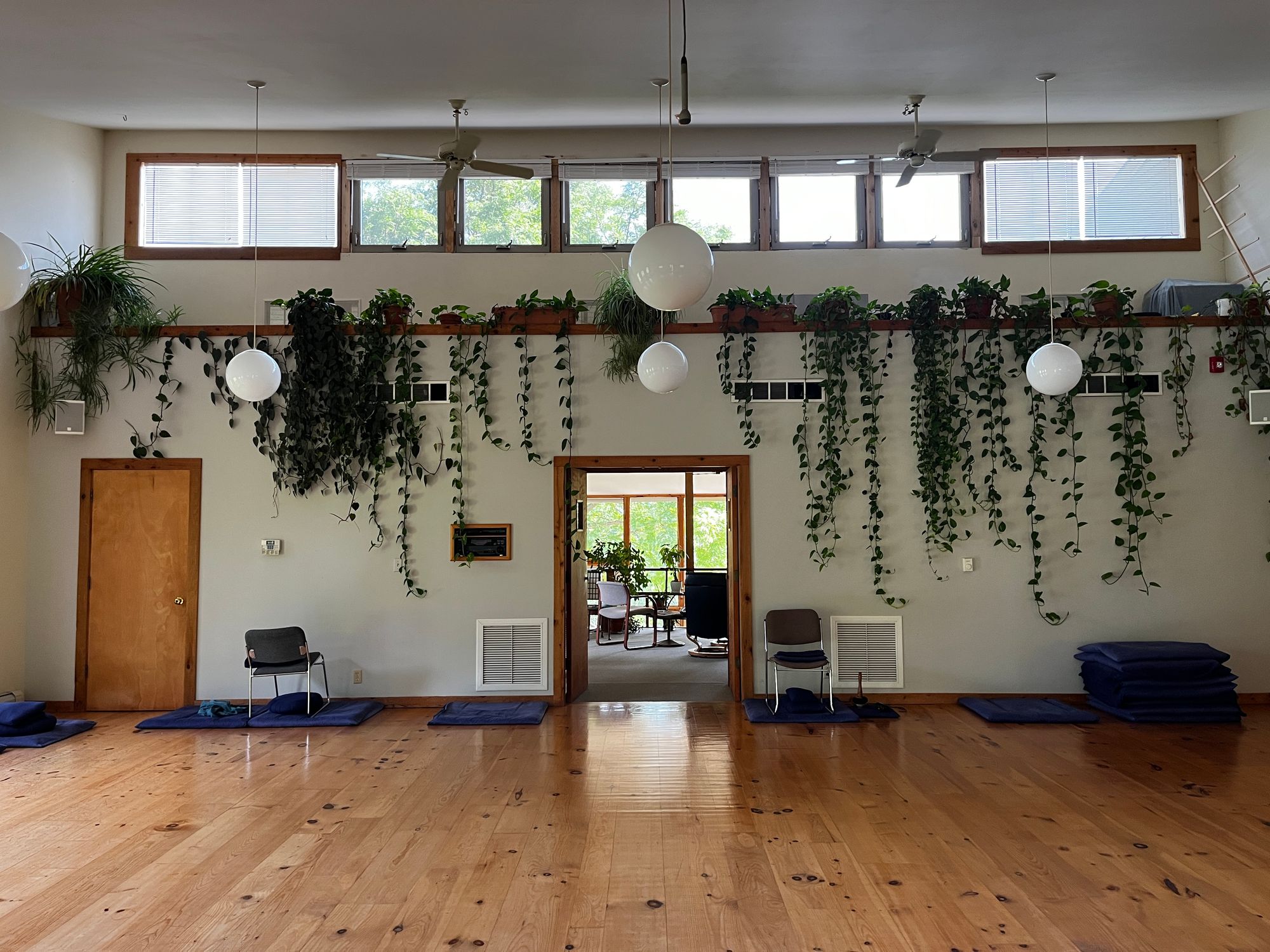 Even thought it was deemed a silent retreat, there were still ways to communicate. There was a communal corkboard where little notes could folded and pinned, with just the recipient—a particular attendee or the staff at large—visible.
There were also designated times for gasp speaking! Every other day we had 70 minutes of group dialogue—where participants could share their experiences, ask questions, and respond to each other. These were thoughtful exchanges facilitated by our guide Richard. The days of pent-up thoughts led to rich conversations.
In my free time, I experimented with pairing meditation and freewriting. After a 25-minute sitting session, I would stream-of-consciousness write for 10 minutes. Thoughts flowed freely without self-judgment. I tapped into ideas and feelings I didn't even know were percolating. This connection was not original and is in fact I was inspired by the words of Zen practioner and author Natalie Goldberg.
In a sense, writing practice is a more expedient way of settling into a quiet place. I get to run through the thoughts and then let them go; whereas when I sit, there's no place to spit them out and they take a long time to digest. They just hang around, roll around in the mouth of my mind. So it's a different process. It's a parallel process. Writing is my deepest Zen practice.

Watching your breath, being present with your whole body, is the medium of the zendo. Words are the medium of writing. When your words are alive, they are electric beings—they are not one jot removed or distant from human life. When I'm brushing my teeth, I'm afraid I daydream a lot, but sometimes I'm there brushing my teeth.

Natalie Goldberg - Writing Down the Bones (link)
Being surrounded by nature was profoundly restorative. Each day I spent time walking through meadows and forests, listening to birdsong, feeling the breeze. Immersed in the present, worries evaporated. There's a meme about the importance of "touching grass" when things get too heated on the internet and it's definitely a takeaway I have from the experience.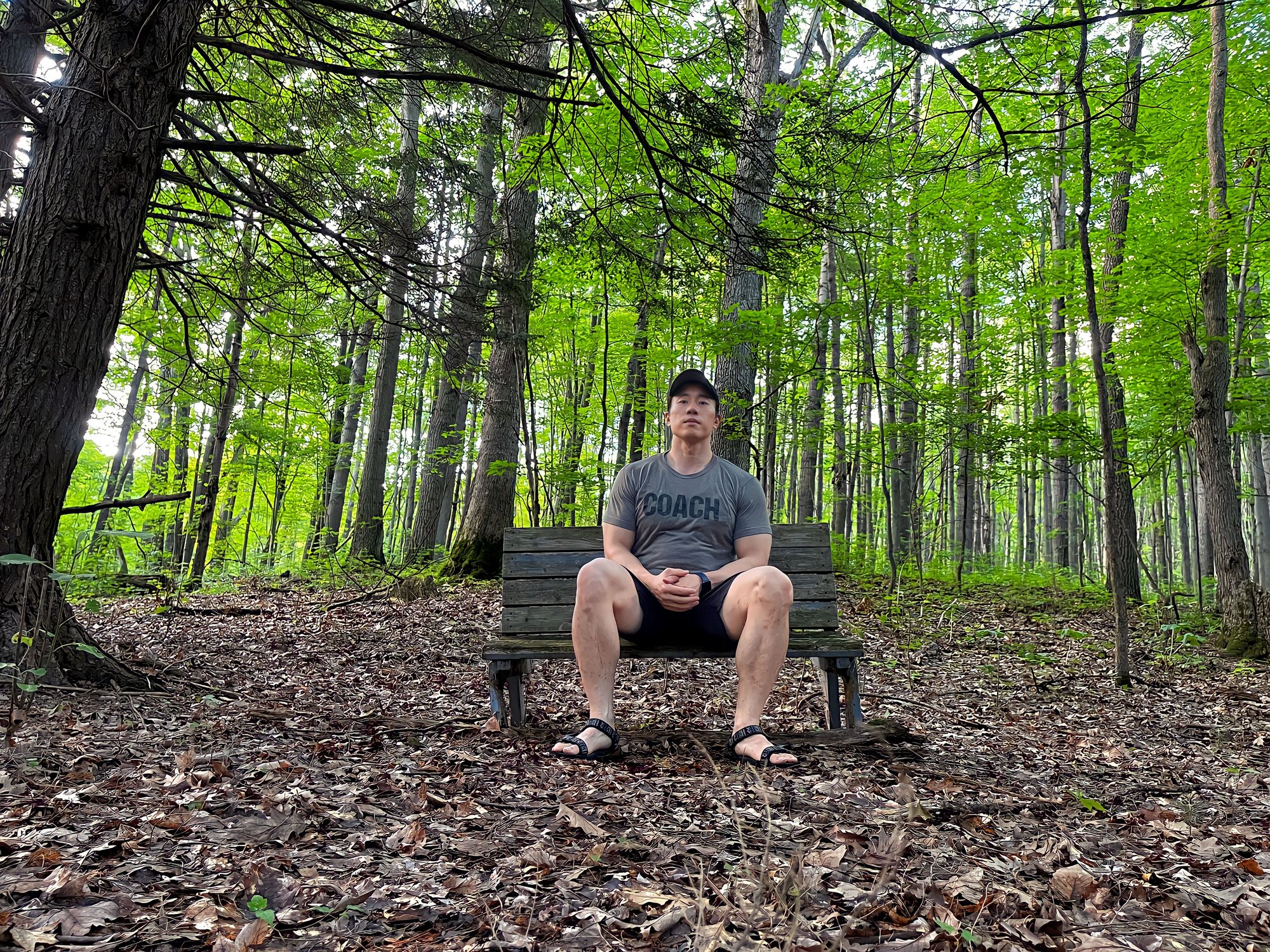 We got to have two private meetings with Richard. In the first one, I mostly sought guidance about how to meditate and shared my struggles with drowsiness. He encouraged me to give in to sleep if it felt right and tried to ease my concerns that Springwater's low key approach was just as effective and less harmful than a more hardcore retreat.
In the second, I had kind of hit a low point. I was grumpy, feeling sleep deprived, and questioning the entire point of meditation. I told Richard I never noticed the effect of a meditation session after the fact. Then I caught myself. If meditative inquiry was about cultivating the skill of noticing, a skill I freely admit is underdeveloped in myself, then of course I would have trouble detecting a change!
He laughed kindly and said I had  realized something quite profound. This insight motivated me to nurture awareness through regular practice and writing practice. Because nothing makes me more aware of myself and my surroundings than the thought that I might try to capture this moment in writing in the near future.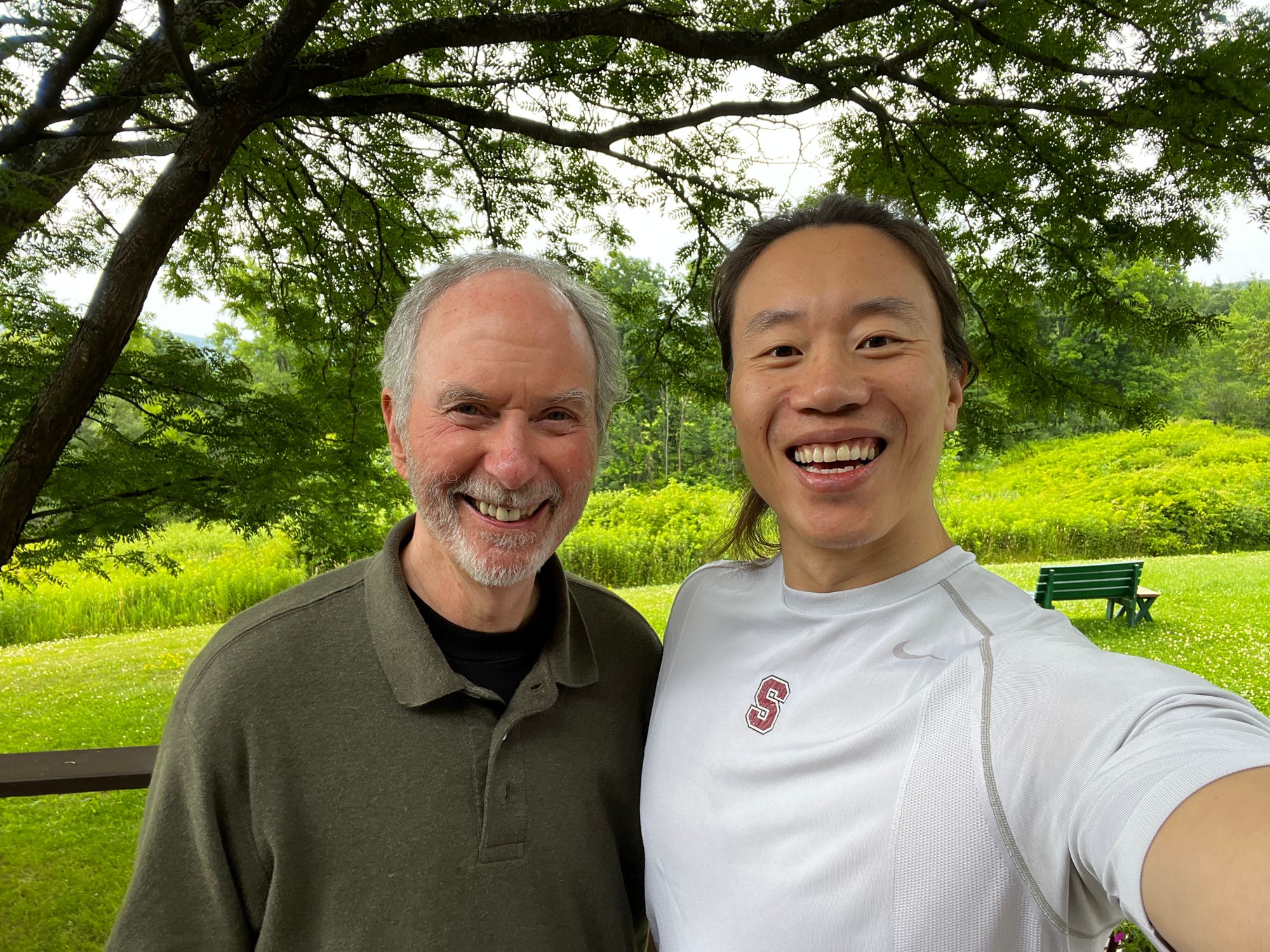 By the week's end, silent moments felt natural. I realized we talk constantly because it's socially expected; it wasn't nearly as odd to have no chatter with others around. I did miss the warmth of verbal connection at times. But the simplicity and focus allowed me to know myself more deeply.
Upon returning home, objective data proved my concentration had strengthened. Using an EEG headband (the Muse 2) tracking my brain activity, I could see measurable improvements in staying calm and focused. Though the benefits are subtle, they are real, though I can see the effect fading as I am meditating far less than I did during retreat.
If you're considering a silent retreat, know they vary greatly in style and structure. This non-dogmatic center worked well for me, but others appreciate a more rigid schedule. Do your research to discern what environment would suit you best. Also try local meetup groups to test out meditation in briefer doses.
In the rush of daily life, it's easy to lose touch with the present. This retreat showed me how rewarding simply sitting and observing can be. Carving out meditative time, even 15 minutes daily, allows the clutter to quiet down. I'm grateful for this reminder to prioritize stillness and tune into the mind's endless chatter without getting lost in it.
Amidst impulses to seek, to know and understand, to find meaning, to acquire and protect, home is always here. And no matter how far thought and imagination may range, no matter how many times there is caught-up-ness in a story or impression, the possibility of taking a breath and waking from the dream is always present.

Recently , someone asked me what I have learned from years of experiencing this meditative way of being, and this answer spontaneously came, "I've become interested in what is here."

Richard Witteman
Please share any reflections if you try out meditation, silent retreats, or mindfulness practices. I'd love to swap stories and tips on staying open, curious and present as we navigate life's noise.
Warmly,
—Jason

PS - I'm looking for beta readers to give feedback for a book I'm writing about startup pivots. If you're interested please reply back and let me know!
---
🙏
Thank you for being a member of Cultivating Resilience. This newsletter has spread almost exclusively by word of mouth. Would you help share it with a friend or two who might also enjoy it?
Recent Issues
---