This is the 59th edition of Cultivating Resilience, a weekly newsletter how we build, adapt, and lead in times of change—brought to you by Jason Shen, a 1st gen immigrant, retired gymnast, and 3x startup founder turned Facebook PM.
It's the end of H1! Facebook has historically run its teams, projects, and performance reviews on a 6 month cycle (though that's changing). I joke that the end of June and December is "Finals Week" for the company. Everyone is trying to get their code shipped and their initiatives launched or completed by the end of the half. It's a hectic time but I think it's powerful way to keep people focused on what matters.
I'm excited about the long weekend and for those in the US, happy Fourth of July! Onto the newsletter 💨
---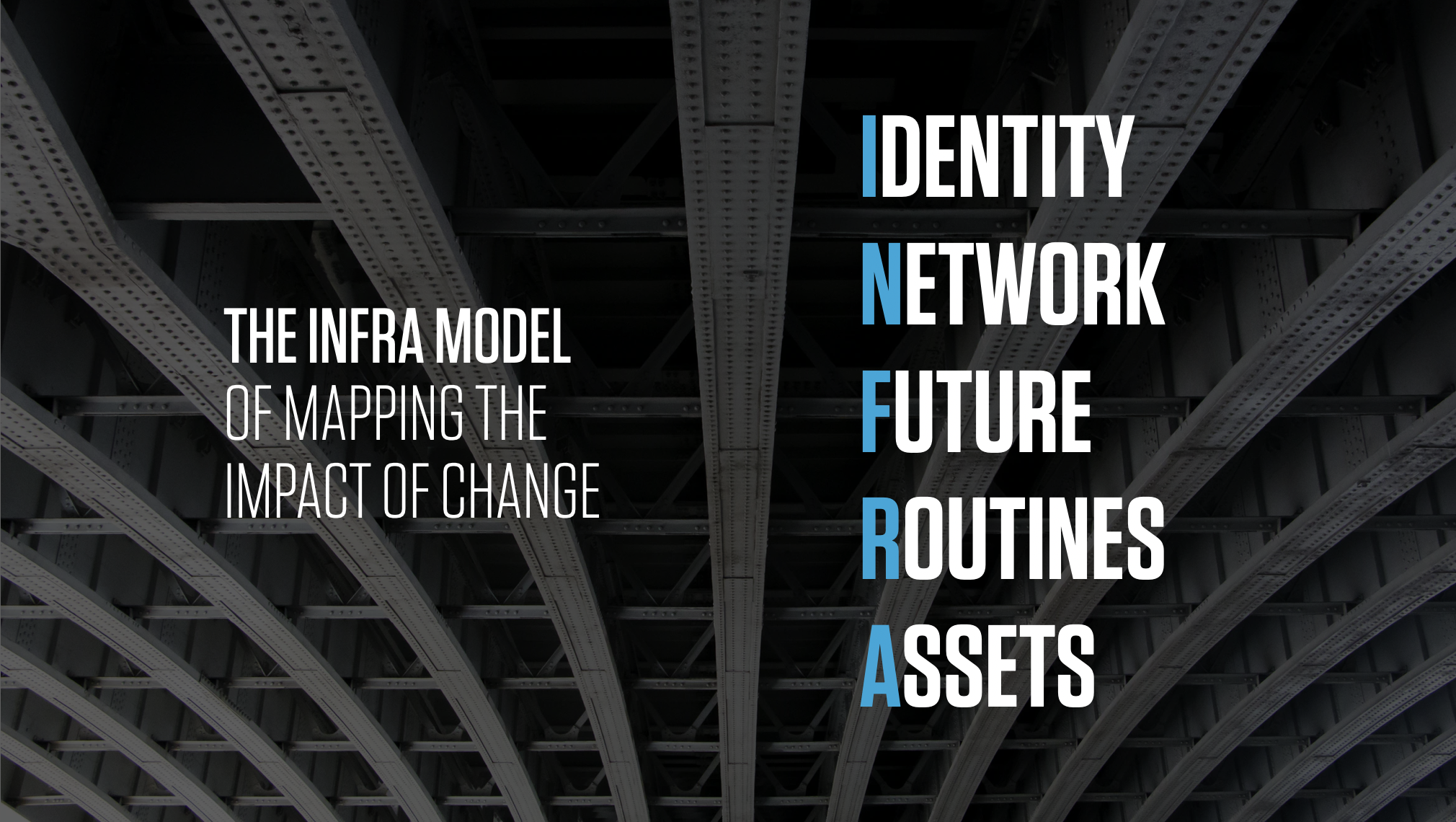 🧠 INFRA - a model for mapping the impact of change across five areas
Editor's note: a previous version of this post referenced the model as "HINDR" but the areas are effectively the same. The new acronym reflects the fact that these areas of your life are important building blocks and change can affect these areas in both a negative and positive way.
As we've discussed in previous editions, resilience is the ability to adapt successfully in the face of change and adversity.
When we face a major change, many aspects of our lives are affected, both positively and negatively. It can be easy to overindex on how awful one area of your life has become, but it's worth doing a more holistic audit.
Enter the INFRA model, a framework I've developed that maps the impact of change across 5 areas:
Identity - how you see yourself as a person / professional
Network - your relationships and who you spend time with
Future- expectations for where your life / career is headed, your goals and dreams
Routine - what your schedule and day-to-day activities look like
Assets - the time, energy, financial, and social capital we can access
Let's say your department is going through a reorg. That probably means you're going through a lot of change. How can we understand that change from the INFRA model? And how can we use it to help us adapt better?
Here's an example from a reorg I went through a few years ago at Etsy, where the team I was on was asked to shift from autonomously working on the Sell on Etsy app (our dedicated mobile app for sellers) to supporting the inventory management project, which spanned web and mobile and was led by another PM.
Identity - while invisible from the outside, this probably shifted a lot for me. Instead of leading the charge as the go-to PM for the Sell on Etsy app, which I had been spending a lot of time with folks across the company on, I now had to follow the lead of another PM. Even though she was someone I respected a lot, I definitely not in the driver's seat. Impact: Negative (significant)
Network - luckily, the reorg kept our core team intact. On the plus side, I now got to work more closely with the lead PM on the project who I liked. On the downside, there were some people in the crossfunctional meeting who I didn't particularly like so that was more of a bummer. Impact: Neutral
Future - the project was a long slog and faced a lot of scope creep as new requirements came in. It wasn't clear where I'd be at the end of the project and what I was going to learn or growth. Impact: Negative (moderate)
Routines - from an activities perspective, this stayed stayed intact - when I came to work, what I spent my time on. But I did have a bunch of new cross functional meeting I had to move around my calendar to support.Impact: Neutral
Assets - because the project was more visible and considered "higher priority" compared to what I had been doing, my team and the bigger group got access to more resources than we otherwise had. Impact: Positive (moderate)
Looking across the five areas, there was only one area that really had a significant negative impact, and that was Identity. This is something I could have mitigated by proactively defining a new area of expertise for myself or trying to continue building expertise as the "go-to mobile expert for sellers" for the company.
On the positive side, I don't think I really took full advantage of the benefits we gained in the Resources area. We probably could have asked for more support for our team in ways that could have benefited the project.
In the end, we shipped some fairly complex changes to the mobile app, launching across web, iOS and Android simultaneously, a feat I'm still quite proud of and I got more reps under my belt as a PM and a practitioner of resilience.
What about you? Are you facing any major change in your life?
How might you use the INFRA model to identify where it's affect you most and how you might mitigate the negative aspects and amplify the positive aspects?
Like this post? Help me reach more people who could use these ideas by sharing it!
---
🖼 How communication really works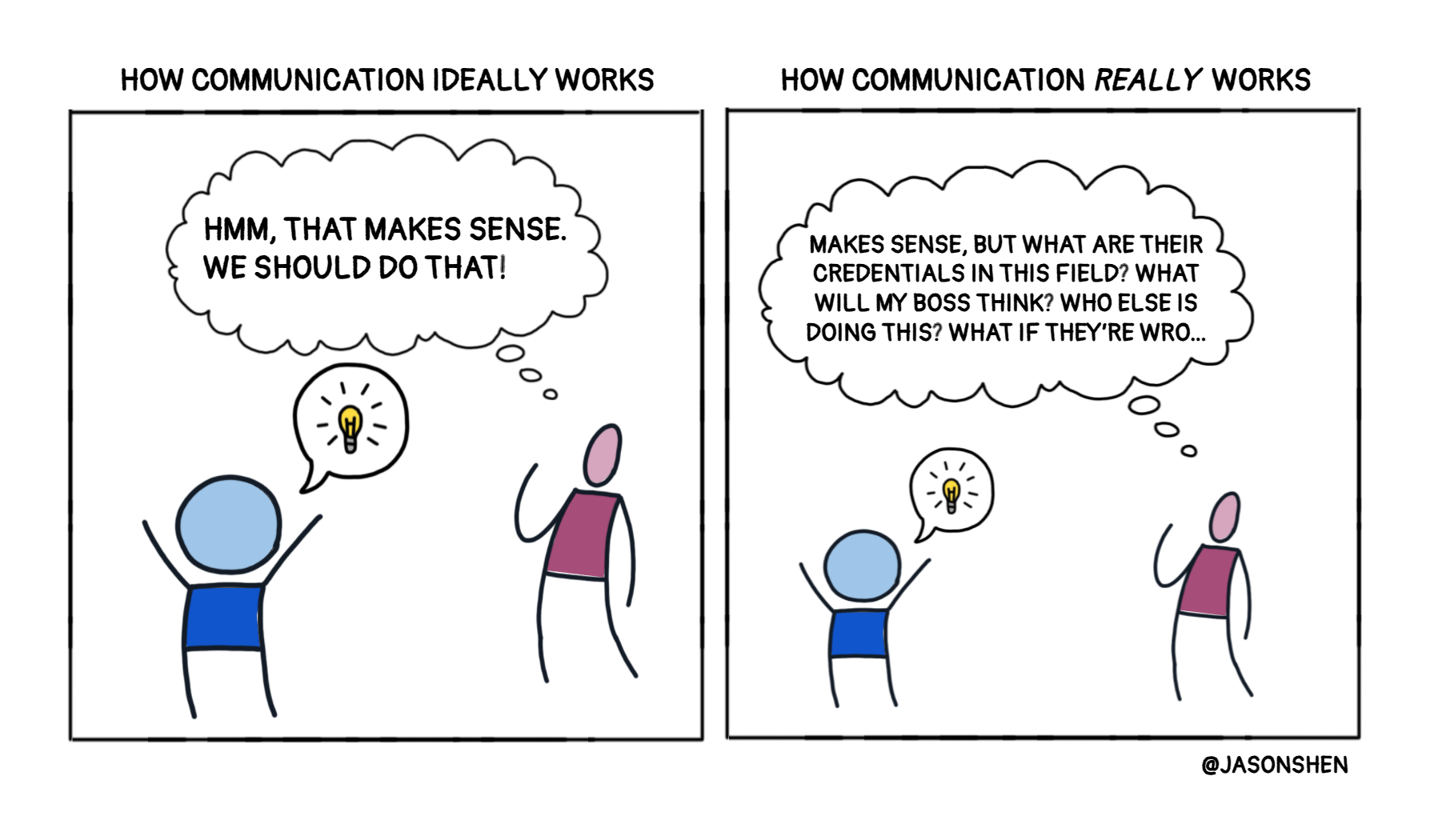 We all want good ideas to spread. But it's never as simple as we'd like it to be. How we carry ourselves, the venue we're communicating in, how we frame our ideas, what the reactions of our peers are, all affect how our message will land with others.
---
👉 Visual Creator Kit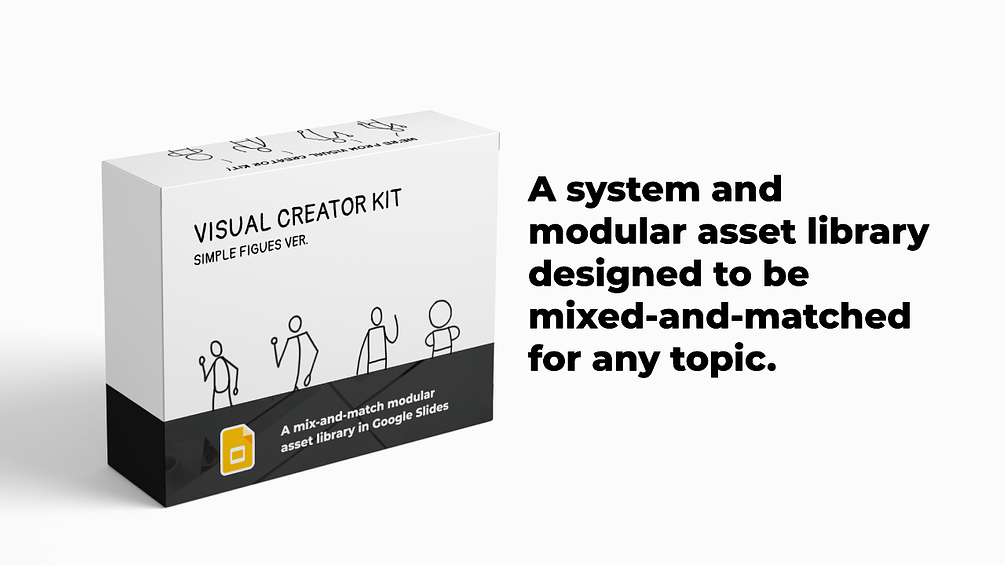 Curious to know how I made that last comic? Want to learn how to communicate ideas more visually? I recently discovered this wonderful resource called Visual Creator KIt. It takes the principle behind what I use to make the Scotch and Bean comics you see regularly in this newsletter and 100x'd it.
Creator Bryan Ho put together a Google Slides deck with 4 different "stick figure characters" in all different poses and positions, along with a bunch of backgrounds, speech bubbles, and backgrounds, which will easily let you assemble scenes to share ideas, tell stories, and communicate ideas visually.

It's a brilliant set up and a steal at $29 for the Early Bird edition (I paid for the kit myself and don't make any commission on this promo).