Oh hello there,
This is the 47th edition of Making Connections, where we take a random (illustrated) walk down tech, fitness, product thinking, org design, nerd culture, persuasion, and behavior change.
Like what you see? Why not bring someone to the party?
---
🖼 Four Types of People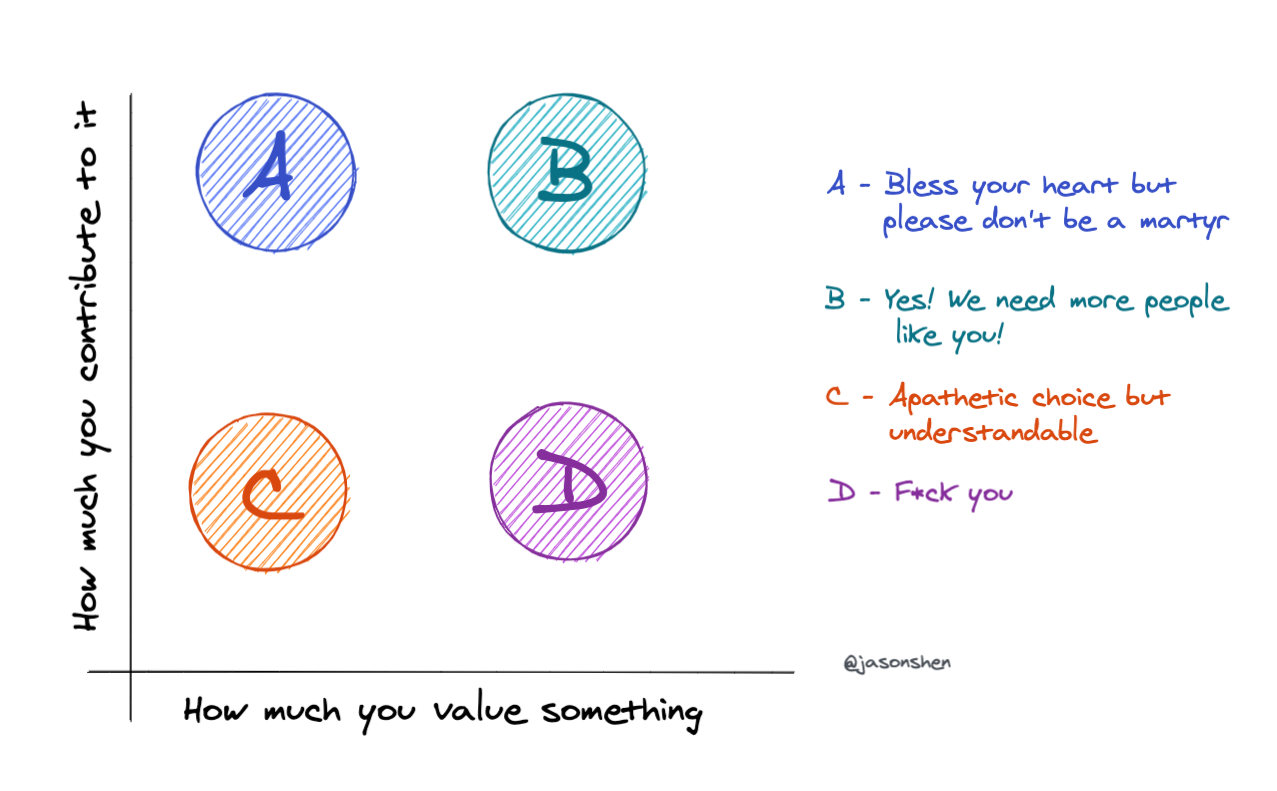 This diagram is inspired by a very low key real-life situation that came up in a friend group recently but fun to think consider.
A - volunteering at your kid's soccer game though you hate sports
B - leading a project you're passionate about at work
C - slacker kid coasting in a group project (sh*tty but hey 🤷🏻‍♂️)
D - bringing a lame dish to the potluck and feasting on other's labor
---
🧠 The Wisdom of Deb Liu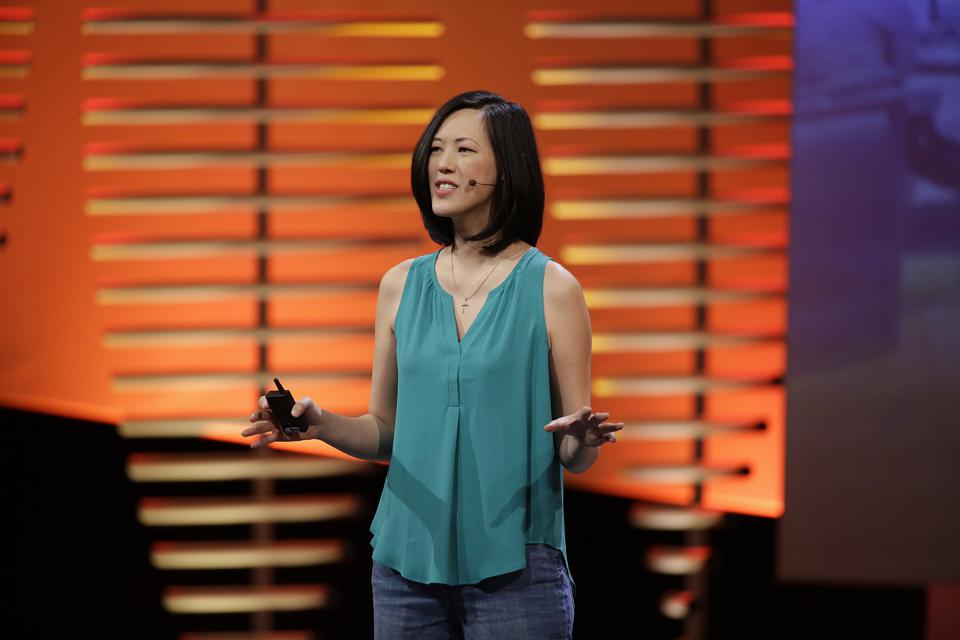 I want to talk about Deborah Liu. Deb was one of the longest tenured and highest ranking Asian American leaders at Facebook. She recently left Facebook take a job as CEO of Ancestry - which was acquired in a private equity deal for $4.7 billion last summer.
In her 11 years at Facebook she created numerous billion-dollar products for the platform like Facebook Credits (remember those?) and Facebook Platform (which is what allowed Zygna and so many other co's to build entire businesses on FB). Her biggest achievement was Marketplace, the product that 800 million people1 use every month to buy and sell things on Facebook, which she first pitched to Sheryl Sandberg in her interview in 2009. After years of pitching the concept internally, Deb is leaving right as Facebook has finally launched a true storefront for commercial businesses to sell products, which is surely a bittersweet moment.
I never got to work with Deb directly - the best I can say is that while onboarding remotely, I watched one of the PM training sessions she had recorded about her journey to rebuild a payment platform for FB Credits, the key thing being her incredible tenacity and grit in keeping the project going despite numerous setbacks.
To recognize Deb, I'm sharing some wisdom from her Substack and other public content I've found across the web:
Get the logistics right. Create a spreadsheet with a seeded list of everyone you want to meet. Include their name, location, tenure, what they work on, and a short bio. Schedule four to five of them per day in half-hour slots, avoiding back-to-back meetings.  It is best to leave at least 15 minutes between so that you can run over when a particularly interesting conversation naturally arises. This also gives you a chance to review and clean up your notes before having to jump on your next call. Make sure to vary which areas you are meeting people from so you don't cluster, say, all of Finance on one day and all of Product Management on another. Send out your questions ahead of time so those who want to prepare have the space to do so.
I recently started PM-ing a new team at work and this post on how to manage a listening tour and how she is organizing her thoughts into a "State of the Union" as part of her first 90 days was super helpful.
Strategy is sexy, execution is hard
I once worked in strategic consulting. We wrote detailed strategies to help companies win a specific market. But more often than not, we left the engagements knowing the companies could not execute against them. Even if they had the advantage they often lacked the ability to build what we defined.

This is the unsexy truth. Strategy is easy, execution is hard. Many companies have similar strategies, but what separates those who win from those who don't is execution.

I worked at eBay over a decade ago and at a reunion dinner, we joked that back then, we were all newly minted MBAs at a tech company run by MBAs. The problem was that we spent a lot of time talking about the strategy, but the strategy is only as good as your ability to actually make it happen. I knew it was time to leave when we had just completed a two-year investment in a new checkout system, and we were road-mapping yet another rewrite. When I realized this next project would take nearly three years to build, I decided to leave. I joined Facebook, and in those same three years, I built two different billion-dollar businesses.
At Facebook, there's equal weight put on strategy and execution. Without a clear strategy, there's no almost point to doing the work. And without great execution, a great strategy is just words in a doc / deck. I think this anecdote is pretty funny.
"Failure is not an option." To innovate is to fail. Most teams will fail in an innovation culture. But some teams will have outsized success. It is a portfolio. For every major product, there are many that don't make it. A great team is one that fails quickly or succeeds quickly, not one that wins every time. Many companies create a culture where innovation is impossible. They overfund the team, celebrate it, give it lofty goals, and then when a team fails to meet a milestone, they are immediately punished and their budget cut.  What high-performing employees would want to work on these areas when there are safer, less stressful, and more rewarding areas in which to invest their career? Inoculate those who take bigger risks and give them the space to fail and try again. If all of the best people cluster at the core of your product, you will have a strong core, but others will attack from your flank.
I love her point that no top performer would want to do something innovative if failure is going to result in judgement or punishment. You need to have your best people working on new things, some of which will inevitably fail, or else someone else will innovate at your edges. Love or hate it, Facebook as a product is thirsty as hell, because they refuse to be attacked from the flank.
How new soil can catalyze change
A few weeks into his new job Yuji called to give me an update. He proudly shared that he was one of the most vocal people in the room. He went on to talk about how he was setting direction and being a more visible and assertive leader.  

Within months he had not only worked on all the things I had coached him on over the past six years but he changed them completely. It was so wonderful to see him blossom, yet part of it was also very humbling. I thought a lot about why the time we spent together did not unlock this new side of him. Was there a key to his metamorphosis that I neglected?
Sometimes when change isn't happening as fast as you want, moving to a new role or environment can make a big difference. People need to be given space to change their style and approach. In this story Deb reflects on how a former report grew and evolved through a new job and what she could have done to facilitate that growth while he still worked for her. I am thinking about this now as my current work PM-ing two teams might give other people a chance to flex new muscles.
---
👉 OneLook: A powerful tool for word-lovers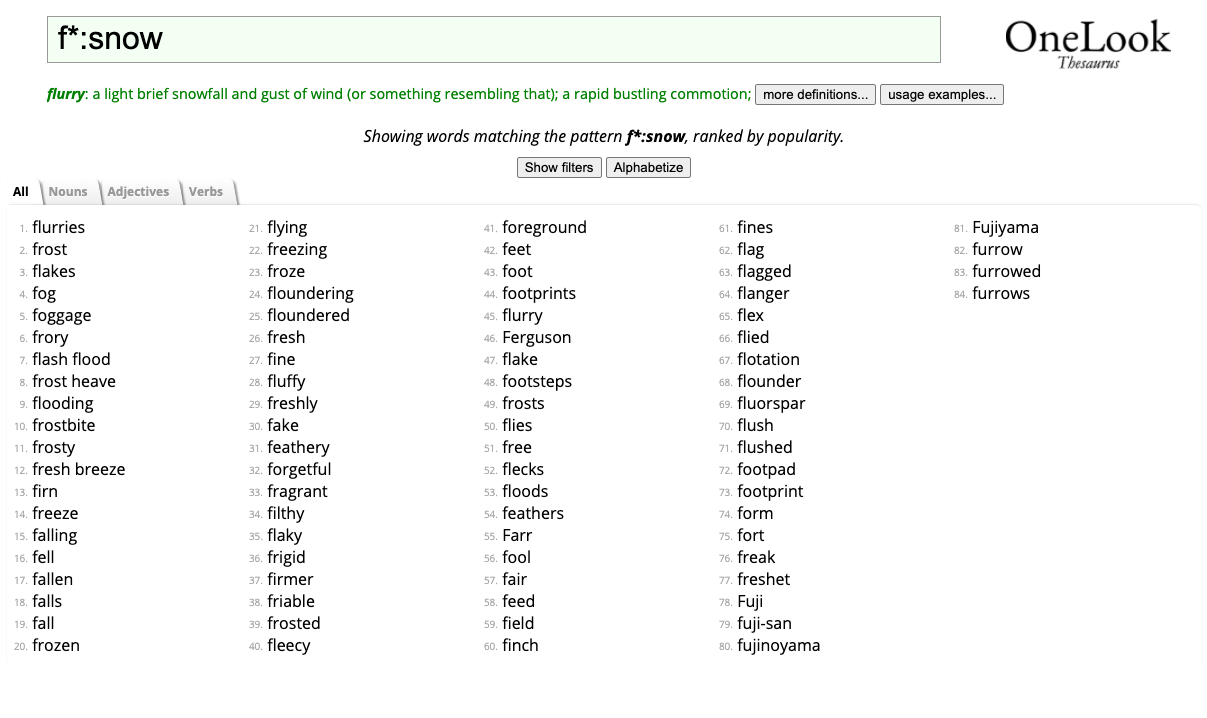 I like to write (duh) and finding the right word is important. But while there are many thesauruses and dictionaries out there, one tool I turn back to for especially tricky wordings and phrases is OneLook. It has a number of interesting features like:
Ok that's it for me this week. Enjoy your weekend and talk soon!
-Jason
👨🏻‍💻 About Me
Jason Shen is an entrepreneur and business leader passionate about technology and human resilience. His past startups have reimagined transportation, recruiting, and gaming; backed by notable investors at Y Combinator, Techstars, and Amazon. As an operator, he's built products and led teams at companies like Facebook, Etsy, and the Smithsonian.
Jason has written about productivity, resilience as well as the future of work in publications like Fast Company, VOX, TechCrunch and has spoken at events at TED, Google and The White House where his ideas have reached millions. He lives in Brooklyn with his wife, two kettlebells, and many piles of books.
This is pretty shocking to me because I've never used FB Marketplace and I haven't had a conversation with anyone who has so it's crazy to think so many people do use it.