Hey friends,
This is the 29th edition of Making Connections, where we take a random (illustrated) walk down tech, fitness, product thinking, org design, nerd culture, persuasion, and behavior change.
If you got this from a friend (they've got taste!) why not subscribe and join in the fun?
🖼 Visual: Scotch and Bean - Personal Best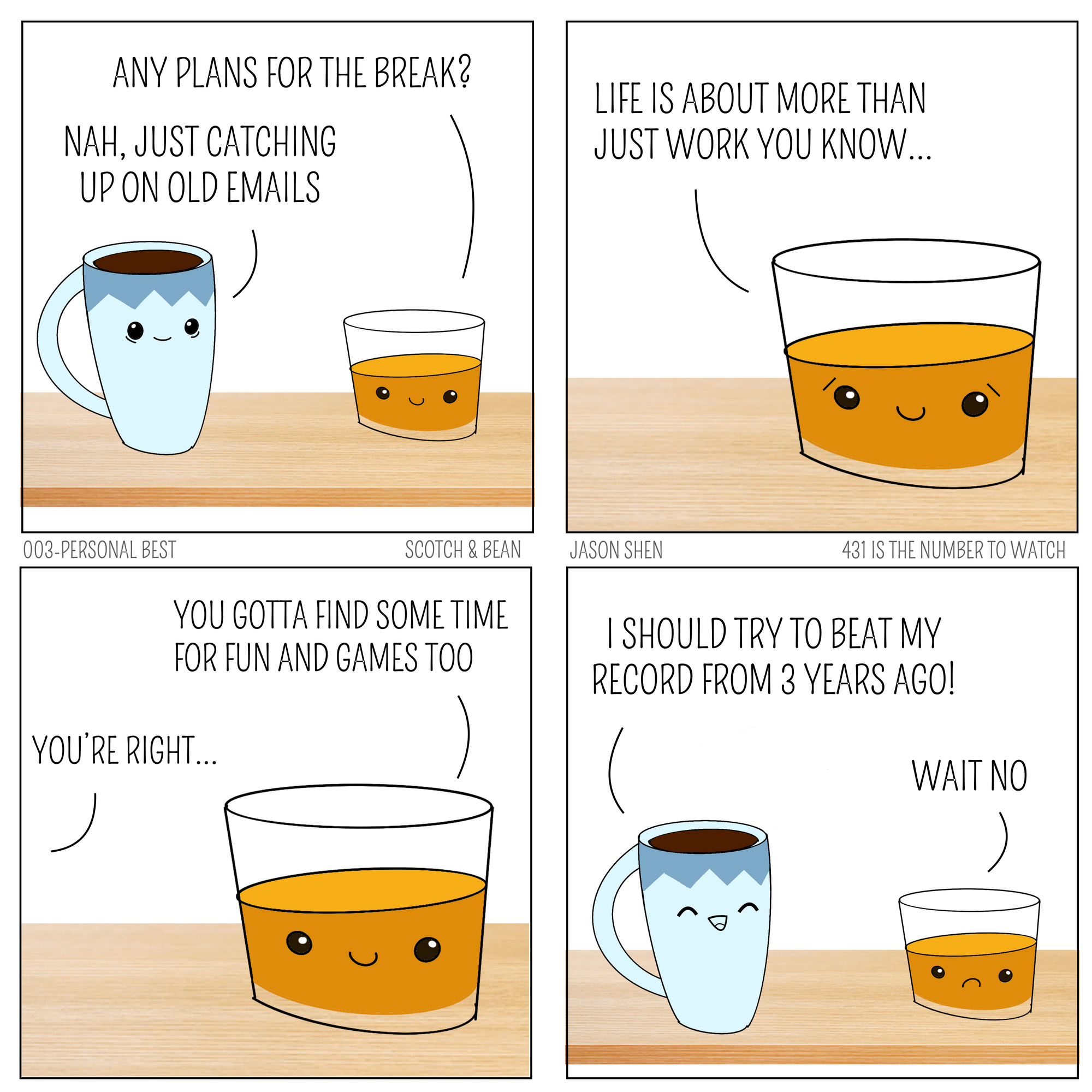 I'm lucky enough to get the entire week of Thanksgiving off from work. But I feel behind enough in personal errands and projects that it probably means quite a bit of "working" on other stuff. Still, the change of pace is going to be nice.
---
🧠 Thought: From Receptionist to UFC Champion
Zhang Wei Li is a mixed martial artist from China and currently the UFC Women's Strawweight Champion,. She wrote a beautiful essay in The Player's Tribune about her journey into MMA last December, four months before defending her title in a grueling five-round war in March 2020.
Beijing was where one of my older brothers lived. My parents did not want me to live in a city on my own, but they would be O.K. with it if I lived close to my brother. So I moved to Beijing, where I got a job as a hotel receptionist. I worked 12-hour shifts at night and slept during the day — and since I wanted to maintain my sharpness, I trained in the early afternoon. I went running in parks. I shadowboxed. I lifted weights. I must have been the fittest hotel receptionist in Beijing.
Women's MMA wasn't an established scene when Zhang was in her 20's so she had to find a way to make ends meet, working the night shift as a receptionist before landing a job at a gym, where she got to train for free.
Not long after I had turned pro — I'd only had two fights — I pulled or twisted something near my right waist while doing a high, sweeping kick during training. I rested for a week, but the pain refused to go away. I tried to train using the left side of my body, but that just made it worse. Soon I had to stop training altogether. I couldn't walk straight. It even hurt to sleep. I had to enter rehab. It was the darkest period of my life.
As someone who's had his fair share of injuries, this prolonged time away from the sport was very real.
People often ask me why I am so aggressive in the ring. Look, everything I have worked so hard for, everything I have fought to overcome — the injuries, the rehab, the pain, the tears — comes down to those few minutes in the ring. So once you are there you do not want to just run around. You want to fight, to show who you are, to silence the doubters. You want to repay those who believe in you.
Nuff said.
Read the whole thing: Be Water, My Friend (The Player's Tribune)
---
👉 Check out: Slow Podcast Workouts
Something I've been doing in the morning is spending 25-35 mins listening to a podcast while working out. I've been.a long-time fan of HIIT (high intensity interval training) which usually means for me 10-15 intense workouts that really hit both my cardio and muscle systems.
But I also end up being kinda tired for the next 30-60 mins or if I haven't slept well, I'm not motivated to get started. So when that happens,  what I've been doing is just moving around a kettle bell - doing some squats, some overhead presses, some KB swings, some pushups, some plank holds, while listening to the podcast. I take it very easy with lots of rest and I don't even count reps.
I find myself energized but not tired, and because I listen to a social, upbeat podcast (these days really enjoying No Stupid Questions featuring Stephen Dubner, coauthor of Freakonomics, and Angela Duckworth, the behavioral scientist who coined "grit".
---
I want to give thanks to you, dear reader, for being a part of this journey with Making Connections. Enjoy your Thanksgiving. Send me a pic of the best thing you do this week!
Jason