Coaching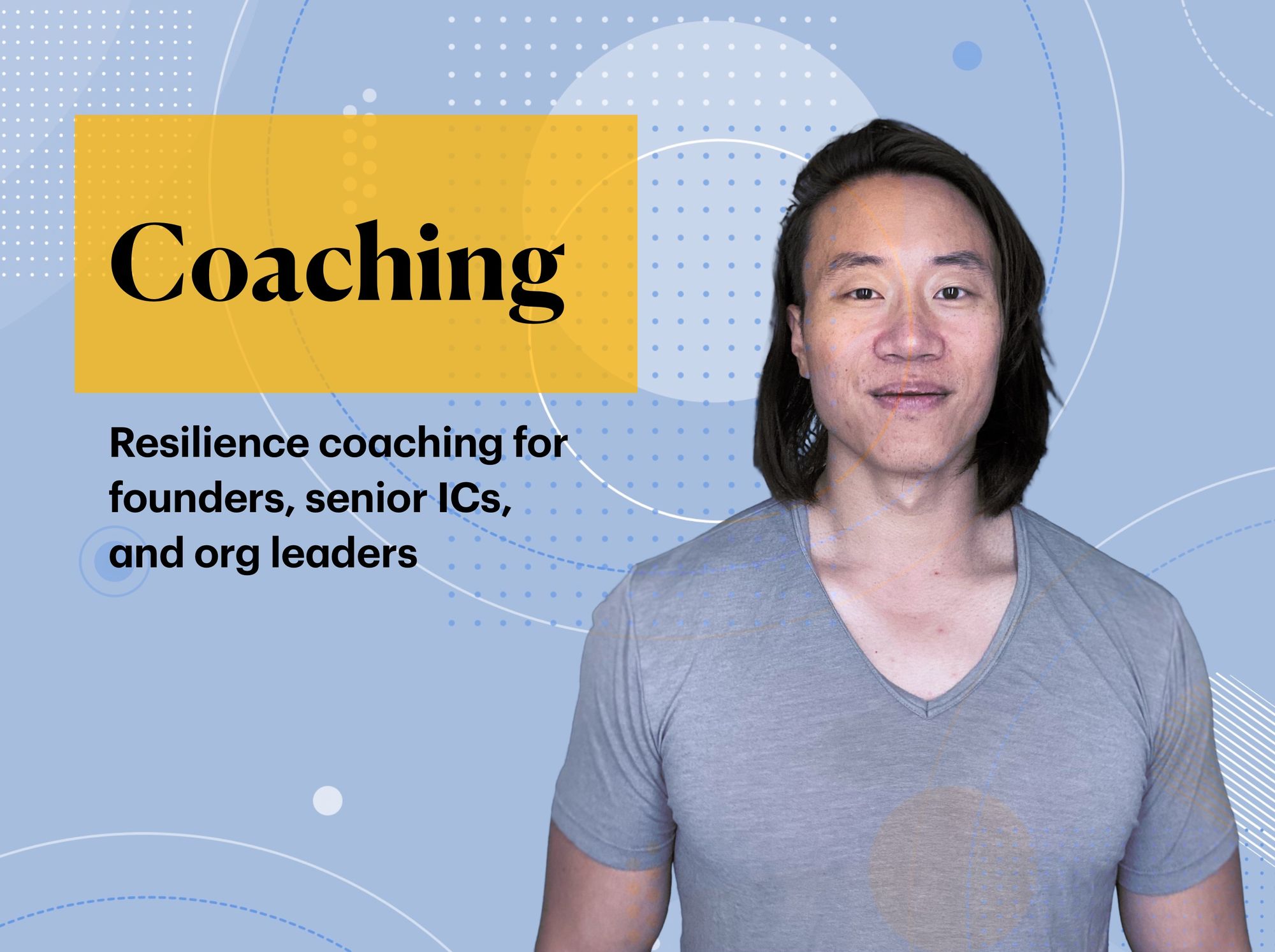 A copilot to navigate the storm
I run a private coaching practice for high-achieving innovators and changemakers. My ideal client is a founder or organizational leader seeking greater courage, purpose, and progress while navigating adversity and change.
I have a special focus on folks who may feel like outsiders their field, because they come from a nontraditional background or belong to a racial or gender minority.
Schedule a free intro call with me
Is coaching for you?
Here are some things to consider if you're thinking about coaching. You might be a good fit for coaching with me if you:
Are deeply motivated by a mission to build a better world but starting to feel lost or uncertain about the future
Have a track record of success but find yourself stuck in counterproductive thinking or behavior
Are feeling underwater with responsibilities and getting dangerously close to burnout
Are wondering if people like you, someone who is so different from your peers, can really make it in your field
Are willing to reflect on yourself, accept constructive feedback, and be open to new ideas
Believe in doing the work and committed to making changes in the way you think and operate
On the other hand, coaching with me may not be for you if you:
Address a serious mental health issue like depression or extreme anxiety
Aren't willing to get vulnerable, honest, and occassionally silly with a coach
Are motivated primarily by money, status, or prestige
Think you are already fine the way you are, with no possible room for improvement
Want a quick-fix, one-and-done solution to your problems
Testimonials
I'm proud of what my clients have been able to achieve and grateful for being a part of that journey.
Jason has an uncanny ability to help unearth root issues that are the source of problems. He was easy to connect with, insightful, and provided effective next steps to help me towards a new project. Highly recommended!
Victor S., Investor & Real Estate Developer
In every session the value was clear: Jason is sharp, experienced, and most of valuable of all he will always give it to you straight.
Brian Liou, YC-backed founder
Coaching Principles
It's important to find a coach who's right for you and fits your style. Here are five principles that guide how I work with my clients.
A safe place —Our confidential sessions allow you to let your guard down. We can explore any idea, feeling, or concern without fear of judgement—whether in your personal or professional life.
Your agenda—We work around your goals, values, and ways of operating — not your investors or your partners or even mine.
Grounded perspective—Get a informed opinion on your situation from someone who's seen, heard, and lived nearly every startup / small business scenario and has no ulterior motive
Practical interactions—Our sessions are a place to role-play tough conversations, weigh pro's and con's, explore alternative scenarios, and other useful activities to advance your agenda.
Accountability—We often struggle to prioritize certain aspects of our lives. Coaching helps ensure your health, relationships, and creative spark never fall off the radar.
My coaching is primarily conducted remotely over Facetime or Zoom, with video on or audio-only as an option being up to the client.
Pricing
My coaching runs around a $3,000 for a 4 month engagement with biweekly calls. Clients can then renew for another engagement or transition to per-call pricing.
Why don't I sell one-off calls right off the bat?
Because making an upfront commitment is important to lasting change. You didn't get into the place you're at now overnight, and you won't get through it in just one or two sessions either. In our free intro call, we can discuss your goals and questions about coaching and decide if a longer-term relationship will work for you.
Coaching is a high leverage investment in a central part of your business: your mentality. For most clients, executive coaching is covered as a valid business expense.
Get in touch
If you think that working together might help you bring more to your business or creative endeavors, I'd love to chat. Find some time for 30 min exploratory conversation.
Schedule a free intro call with me
About Jason
Jason Shen is a first-generation immigrant and a three-time startup founder whose raised millions in venture capital from investors like Y Combinator, Techstars, Betaworks Ventures, and Amazon. His last company was acquired by Facebook, where he works as a product manager. His ideas on startups, leadership, and innovation have appeared in TechCrunch, Fast Company, and Quartz and his TED talk on the future of talent has 4.1M views. Jason holds a BS and MS in Biology from Stanford University and serves on the board of the Presidential Innovation Fellows Foundation.

Jason first experienced the power of coaching as a gymnast, where his coaches helped him advance to become a US junior national team member and a NCAA national champion. Over time, he's worked with life, dating, and executive coaches to improve his goals—and brings the best of those experiences to his own practice.
The Annual Review Blueprint
A reflection and goal setting framework for making next year a huge success that's reached more that 50k readers.
TED Talk on Future of Hiring
My TED talk on why we should care more about ability than experience when evaluating talent with 4M+ views.
Ridejoy Lessons Learned
An in-depth review of my first company, Ridejoy, why it failed, and what I learned from building it. Written over 4 years.
---