081: Sources of meaning
🧠 Should we take a day off? Like really off? 🖼 Shadow (Scotch & Bean #034) 👉 A full-body kettlebell workout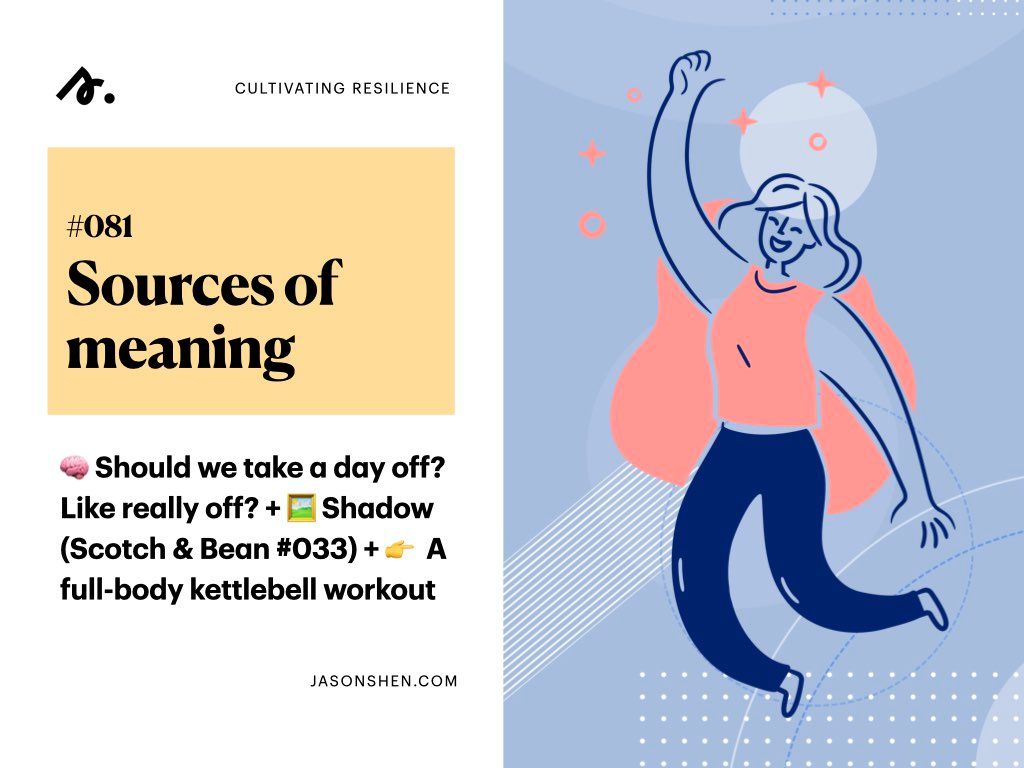 This the 81st edition of Cultivating Resilience, a weekly newsletter how we build, adapt, and lead in times of change—brought to you by Jason Shen, a PM, resilience coach, 1st gen immigrant, ex-gymnast, and 3x startup founder.
🤔 What makes life meaningful?
A Pew Research Center study found that citizens of different countries ranked different sources of meaning as important.
Most countries led with Family, except Spain (Health), South Korea (Material well-being), and Taiwan (Society). Occupation was #2 for many, though surprisingly not the US (#2 Friends, #3 Material well-being). UK was the only to squeeze in Hobbies into their top 5, while Americans rounded out with Faith.
Q: What about you? What are the 2-3 top sources of meaning for you?
Reply back over email and I'll tell you mine!
🧠 Should we take a day off? Like really off?
As some of you may surmise, I'm a doer. It's Saturday and I'm over here writing this newsletter. First off, I consider it a hobby so it's more like "fun-work" than "work-work". But still, I'm not out here just idling.
But maybe I should. Artist Austin Kleon writes about how he's been trying a lot harder to make his weekends more about real rest and idlness. He shares advice from an artist coach named Beth Pickens: